James 'Whitey' Bulger, Former Boston Mob Boss, Dies at 89
(Bloomberg) -- James "Whitey" Bulger, the Boston mob boss who corrupted FBI agents, tortured and murdered his associates and spent 16 years on the run, was killed in a federal prison while serving a double life sentence. He was 89.
Bulger was killed after arriving Monday at the U.S. Penitentiary, Hazelton in Bruceton Mills, West Virginia, according to people familiar with the probe of his death. "The U.S. Attorney for the Northern District of West Virginia and the FBI will be conducting an investigation into the death of James Bulger. No other information will be released at this time," Stacy Bishop, a spokesman for U.S. Attorney William J. Powell, said in an emailed statement.
A "fellow inmate with Mafia ties" is being investigated in connection with Bulger's death, anonymous sources told the Boston Globe.
Bulger, who was found unresponsive at 8:20 a.m. on Tuesday, didn't respond to life-saving measures and was pronounced dead by the Preston County medical examiner.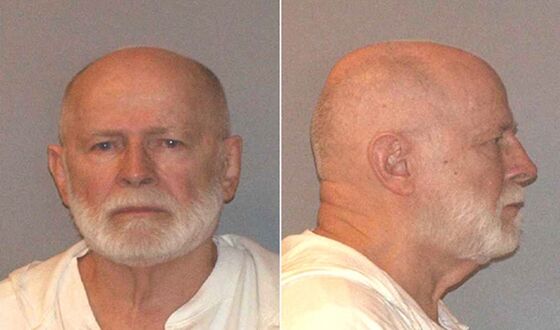 Bulger headed a racketeering and drug-dealing operation for 30 years while his younger brother William Bulger was president of the Massachusetts Senate. "Whitey" Bulger disappeared in 1995 after learning from a former FBI agent, John J. Connolly Jr., that an indictment was pending, triggering a worldwide manhunt.
Bulger was captured on June 22, 2011, when a tip from a former neighbor led FBI agents to a Santa Monica, California, apartment where Bulger and his girlfriend, Catherine Greig, had been living under the names Charlie and Carol Gasko. Bulger had a stash of 30 guns and $822,000 in cash hidden in the walls.
"Do what you want with me," Bulger told the judge when he decided not to testify in his own defense because the court barred him from telling jurors about his claim that a former federal prosecutor had given him immunity beginning in the 1970s. Bulger called the trial "a sham" and was appealing his conviction.
During his two-month trial in 2013, Bulger's former crime partners testified he took pleasure in killing his victims and sometimes took a nap while his underlings dug graves. His lawyers attacked the veracity of FBI files allegedly documenting Bulger's years as a criminal informant who gave agents information about Italian organized crime in America. His defense team claimed he purchased information from law-enforcement officials, and was never an informant.
"Whitey's assertion fit a lifelong pattern of seeking to soft-pedal his monstrosity by assuming the mask of a tough guy but not such a bad guy -- which, in his crime world, he'd label as 'good, bad guy,'" Dick Lehr, the co-author of "Whitey: The Life of America's Most Notorious Mob Boss," wrote in an op-ed in the Boston Globe newspaper.
"I never, never, never cracked," Bulger said in the 2014 film "Whitey: United States of America v. James J. Bulger."
Bulger was convicted of racketeering and the murder of 11 people. Some of his victims, mostly former associates whom he feared were cooperating with police, were missing for decades until his crime partners led law enforcement to secret graves as part of plea agreements. Bulger was acquitted of seven murders.
At his sentencing in November 2013, Bulger refused to look at the children of his victims as they took the podium one by one and described the pain of their losses.
"The scope, the callousness, the depravity of your crimes is almost unfathomable," U.S. District Court Judge Denise Casper told Bulger.
Connolly was convicted of racketeering and received a 40-year sentence for murder. Greig, a former dental hygienist, pleaded guilty without a plea agreement and was sentenced to eight years for harboring a fugitive and identity fraud.
James Joseph Bulger Jr. was born on Sept. 3, 1929, in the Dorchester neighborhood of Boston. He was one of six children born to James Joseph Bulger Sr. and the former Jane Veronica McCarthy, a first-generation Irish American who was known as Jean. His father, who was from Newfoundland, lost his left arm as a young laborer when he was pinned between two trains while working in a Boston rail yard.
Raised mostly in public housing in the city's South Boston district, Bulger graduated from a trade school and served in the U.S. Air Force. He went AWOL but received an honorable discharge in 1952 before embarking on a life of crime.
Dubbed "Whitey" as a boy because of his white blonde hair, Bulger loathed the nickname and insisted his associates call him Jim. His experience with crime as a juvenile escalated to bank robberies in the 1950s that eventually landed him in Alcatraz, the former island prison in San Francisco Bay.
"I had seen him change from a blithe spirit to a rebel whose cause I could never discern," his brother William wrote in "While the Music Lasts: My Life in Politics" (1996). "He was in a constant state of revolt against -- I'm not sure what. He was restless as a claustrophobic in a dark closet."
By 1956, Bulger was sentenced to more than 20 years in federal prison for bank robbery. He was released after nine years, including a stint in Alcatraz.
While in federal prison in Atlanta in 1957, Bulger voluntarily participated in medical experiments involving LSD to get reduced prison time. The program was later exposed as part of the Central Intelligence Agency's research into mind control, known under the code name MK-ULTRA.
In diaries recovered by Federal Bureau of Investigation agents, Bulger wrote that he suffered terrible side effects from the LSD experiments and was never able to sleep well again.
"I was in prison for committing a crime and feel they committed a worse crime on me," Bulger wrote.
Bulger never married. A woman named Lindsey Cyr said she and Bulger had a 12-year relationship beginning in 1966 that produced a son, Douglas, who was born in 1967. The boy died in 1973 from a rare medical condition.
Cyr, a former waitress, said Bulger was at the hospital the night their son died and was devastated.
"My life was wasted and spent foolishly, brought shame and suffering on my parents and siblings and will end soon," he wrote in a letter to three girls from Apponequet Regional High School in Lakeville, Massachusetts, who had contacted him for a history project, the Boston Globe reported in June 2015.
"If you want to make crime pay -- go to law school," he wrote.