J&J Pharma Executive Reveals Playbook for Standalone Drugmaker
(Bloomberg) -- Johnson & Johnson will focus on developing drugs for conditions such as lung cancer and eye disease as it prepares to make its pharmaceutical and medical-devices business an independent entity. 
The 135-year-old health giant faces its greatest-ever overhaul as it readies for a spin-out of its consumer unit, following a path trod by rivals such as GlaxoSmithKline Plc and Pfizer Inc. In her first-ever interview, Jennifer Taubert, J&J's executive vice president and worldwide chairman of pharmaceuticals, told Bloomberg News that the company will invest in new areas of interest.
Over the next decade, Taubert said, J&J will prioritize gene therapies for inherited retinal disease, lung cancer treatments, CAR-T therapies that aim the immune system against cancer, and treatment for conditions linked to auto-antibodies. It's also prepared to look for outside assets that may include new technologies such as messenger RNA, which the Pfizer-BioNTech SE partnership and upstart biotech Moderna Inc. have ridden to Covid-19 vaccine riches.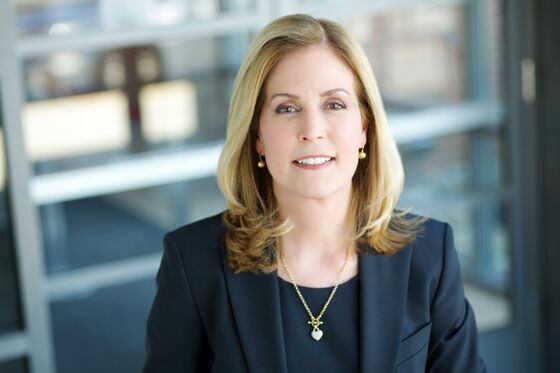 "We have a number of deals that are underway," Taubert said from the New Brunswick, New Jersey headquarters. "Fingers crossed we'll be able to close some of those." 
J&J shares were down 0.3% at 11:03 a.m. in New York on Thursday. 
Taubert emphasized that the company won't be spinning out its medical-devices business in the near future, as it's become increasingly intertwined with new and complex treatments under development.
J&J's pharmaceutical arm has long been its strongest performer, bringing in more than half its total revenue and churning out 21 new products over the last decade. Recently, however, many competitors have spun out less-profitable businesses such as consumer health, generic drugs and animal health to focus almost exclusively on building their branded drug pipelines. 
J&J is seeking to recapture the interest of investors by focusing on pharmaceuticals with mega-blockbuster potential. Its pharmaceutical unit has invested nearly $10 billion in research and development this year alone. 
But Taubert doesn't want to stop there. The 34-year industry veteran is crafting a new investment strategy to put J&J in a better position to win out against peers. 
During a in-person presentation on Thursday before about 100 investors, Taubert said that the company expects to have 14 medicines that could bring in more than $1 billion in annual sales through 2025, and sees five drugs having the potential to bring in more than $5 billion a year.
Simultaneously, Taubert said, leadership are evaluating every two-to-three years where to scale back research and development investments. 
"We actually prune out the ones that we don't think make sense for us," she said. 
For example, J&J plans to scale back R&D investment into the field of neuroscience, Taubert said, as current knowledge of natural and disease mechanisms make drug development challenging.
However, J&J is bullish on nipocalimab for neuro-inflammatory disorders, and is seeking to build out its pipeline in mood disorders and neurodegeneration.
Taubert said the company also remains interested in infectious disease and vaccines, and is ensuring that team has the right resources to compete in the market. She recently hired Penny Heaton, the founding CEO of the Bill and Melinda Gates Medical Research Institute, to lead the team infectious disease and vaccine unit. The company will look at possibilities for using mRNA technology there, she said. 
"Penny is going to look not only at what diseases we want to prevent, but also the best platforms that could get us there," Taubert said. 
J&J lagged its mRNA rivals in making Covid vaccines because of production setbacks. "The learnings will make us stronger for commercial vaccines to follow," Taubert said. While the company plans to make 1 billion doses in 2022, she said, it still doesn't see its vaccine as a money-maker.
Some investors and analysts have speculated that J&J will spin out its medical device business next. Taubert rejected the notion, saying, devices have become a more important part of the therapeutic landscape that often figures in drug delivery and diagnosis.  
J&J's schizophrenia treatment Invega Hafyera, for example, is delivered with an auto-injector. Other devices are used to detect lung detect cancer. They may also come into play in J&J's experimental eye treatment, Taubert said. 
"That's going to require inserting genes into the back of an eye and the retina through a type of surgical intervention," she said. 
The collaborative efforts of pharma and devices will be key to the company's success, Taubert said. 
"When we work as one team, I think that's where we get the best results," she said.