Johnson & Johnson Drops After 2019 Outlook Misses Estimates
(Bloomberg) -- Johnson & Johnson shares slipped in early trading as analysts weighed in on management's lower-than-expected 2019 financial guidance.
The stock fell as much as 2.8 percent to $127.01 after the world's largest maker of health-care products said it expects 2019 adjusted earnings per share to come in between $8.50 to $8.65, compared with the $8.61 analysts had forecast, data compiled by Bloomberg show. Leerink analysts said the outlook demonstrated management's "prudent conservatism," while Credit Suisse referred to it as "light."
Analysts at Barclays wrote that while medical device sales were just shy of consensus, "the results for the Medical Device business suggest at least a stable MedTech market" with Stryker as the likely beneficiary of J&J's share loss in knees. Credit Suisse's Vamil Divan said the currency headwind for J&J's drug sales indicated a trend reversal from tailwinds that were seen in the first six months of 2018.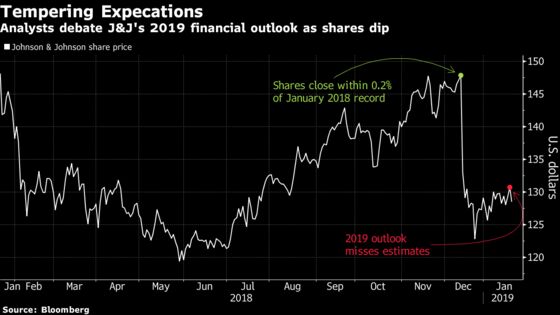 Here's what analysts are saying about the results:
Leerink (Danielle Antalffy)
"Given that JNJ has been a relative underperformer YTD in 2019 and also in 2018, we do think shares could -- and should -- bounce on this positive Q4 performance, assuming investors view this guidance as conservative vs. base-case scenario for 2019."
Highlights that sales growth outlook of 2 percent to 3 percent "could prove conservative, as could EPS guidance of $8.50-$8.65. Notably -- demonstrating management's prudent conservatism -- in 2018, management issued organic sales growth and EPS guidance of 2.5%-3.5% and $8.00-$8.20 but ultimately delivered 5.5% organic sales growth and $8.19."
Rates shares at outperform.
"JNJ's strong 4Q results (+$226M; +$0.02) could help support shares today but the initial 2019 outlook was clearly mixed with the midpoint of both revenue and adjusted EPS guidance coming in below consensus expectations."
The bank's medical devices team wrote that results for J&J's medical device business suggests at least a stable market for the MedTech space. "Within orthopedics, we believe J&J continues to lose share in knees and we see Stryker as the likely beneficiary. Performance improved within the spine business, which we believe reflects J&J's improved execution and move back to performance in-line with the market."
Meacham rates shares an equal weight with $137 price target.
"JNJ's 4Q results reflect continued above-market growth in Pharma, progress in Medical Devices and improved momentum in Consumer. These sales trends, along with what we view as conservative 2019 guidance ranges, should be enough to support shares."
Initial 2019 guidance implies growth of 3.25 percent to 4.25 percent which is "a similar guidance level as last year which proved to be conservative." Says the range suggests a deceleration for its pharmaceutical business which was expected with "the Zytiga generic competition and Remicade biosimilar competition headwinds fully understood by the Street."
Rates outperform with a $155 price target.
Credit Suisse (Vamil Divan)
J&J's 2019 guidance is below consensus and Credit Suisse estimates with the stock may seeing "some weakness on the low quality beat and lower than-expected 2019 sales guidance."
Highlights that the medical devices segment performed in-line with estimates though consumer and pharma businesses were "responsible for most of the sales beat for the quarter." Stelara was "notably strong" with Invokana performing well as Xarelto was "notably light."
Has an outperform rating and $153 price target.
Wells Fargo (Larry Biegelsen)
2019 outlook was mixed with EPS view bracketing consensus despite sales expectations falling below Street view. "The EPS guidance may be helped by a benefit from the gain on sale of ASP (deal pending) and/or a lower tax rate. Reported sales guidance of $80.4-$81.2B, which is below consensus of $82.6B and brackets our $81.0B estimate. The sales guidance assumes adjusted operational sales growth of 2.0-3.0%, down from +5.5% in 2018."
Firm has an outperform rating and a $152 price target.