J.C. Penney Plunges on Sales Drop, Underscoring Revamp Feat
(Bloomberg) -- J.C. Penney Co. tumbled after posting a sixth straight quarter of declining sales even as it showed some signs of progress in the holiday season, showing its recovery effort still has a long way to go.
The company posted a 7% decline in fourth-quarter same-store sales, compared with a drop of 7.5%, the average of estimates compiled by Consensus Metrix. Revenue for the period also declined. Still, it reported adjusted earnings per share for the fourth quarter of 13 cents that beat the analyst estimate for a loss of 6 cents.
Chief Executive Officer Jill Soltau has been battling to reverse falling foot traffic in stores and improve inventory management, while navigating a significant debt burden. Soltau said she was "encouraged" by the progress especially in the women's apparel business, this quarter, which spanned the holiday season. "We knew it would take time to restore discipline and return growth to J.C. Penney," she said.
The company also said it will close at least six more stores in fiscal 2020, following analysts' calls for reductions. Shares fell as much as 9.3%.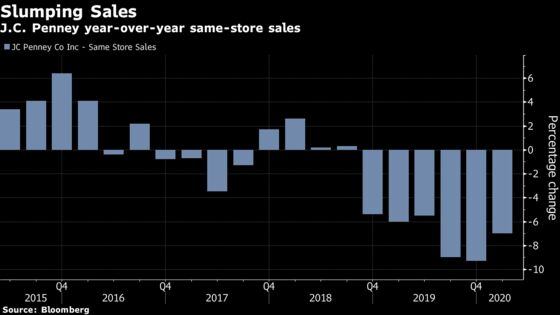 In January, the company, alongside several of its department store peers, reported a drop in same-store sales for the holiday period. On Thursday, it posted a 5.6% drop in adjusted comparable sales for the year, which exclude major appliances and in-store furniture categories. This was in line with its forecast last month of a decline of 5% to 6%.
The company expects full-year fiscal 2020 same-store sales to drop between 3.5% and 4.5%. It said its guidance does not include potential effects of the coronavirus outbreak. Soltau told analysts that the company is monitoring the situation closely, but that it has no stores in China or in other countries feeling a major impact.
Soltau said that J.C. Penney plans to get its share price above $1. The shares had declined 35% this year through Wednesday's close. The retailer is at risk of delisting as it shares hover below $1. Last month the company was notified that it was no longer in compliance with the New York Stock Exchange continued listing criteria, at least the second time in a 12-month period.
J.C. Penney has been spending cash to invest in its turnaround. The retailer reported liquidity of about $1.8 billion at the end of fiscal 2019 and long-term debt of $3.57 billion as of Feb. 1, 2020. Chief Financial Officer Bill Wafford said the company is "incredibly comfortable with where our capital structure sits and our relationship with our creditors" which have been positive. Bloomberg reported last year that some of its creditors have pushed for a possible debt swap that could give it more time.