J.C. Penney Names Jill Soltau of Joann Stores as Chief Executive 
(Bloomberg) -- J.C. Penney Co. named Jill Soltau as its first female chief executive officer, bringing her 30 years of retail experience to the embattled department-store chain.
Soltau, who has served as CEO of Joann Stores since 2015, will step into the role on Oct. 15, J.C. Penney said Tuesday in a statement. Shares of the retailer surged as much as 12 percent in late trading.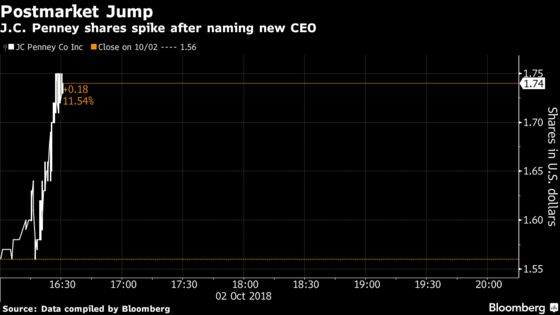 The announcement removes some of the uncertainty from the company, which has suffered investors' ire since Marvin Ellison left in May to become head of Lowe's Cos. His departure was followed by that of Chief Financial Officer Jeffrey Davis in late September. Soltau now faces a business that has struggled to correct inventory issues and whose latest quarterly report left analysts fuming.
"Jill stood out from the start among an incredibly strong slate of candidates," said J.C. Penney board director Paul J. Brown, who chaired the search committee. "We wanted someone with rich apparel and merchandising experience and found Jill to be an ideal fit."
The shares rose as high as $1.75 in after-hours trading. Through Tuesday's close, they are down 51 percent this year.
Soltau will enter the job with a target annual compensation of $11 million, consisting of a salary, bonus and a long-term incentive. This year she'll also get a $6 million signing bonus and shares worth $10 million that vest over three years.
In August, J.C. Penney posted comparable-store sales for the second quarter that were close to flat and forecast a much wider loss for the current year. The results prompted one analyst to label the shares as "worthless," while another suggested the chain was in "no man's land."
Ellison had tried to revive the chain by improving the online experience, adding big-ticket items such as appliances and signing brand partnerships with celebrities. In the end, none of them made much difference and the company had to cut prices to reduce inventory.
Soltau "is a smart choice," because of her background in apparel and accessories at retailers including Shopko, Kohl's and Carson Pirie Scott, said Gabriella Santaniello, founder of retail consulting firm A Line Partners. Carson Pirie Scott was later acquired by Saks Inc.
"These are categories that have long been suffering at J.C. Penney," she said. It "seems to bring hope to investors that the company finally has someone in place who understands the ever changing world of fashion at a mass retailer."
While running Joann, Soltau took issue with the Trump administration's tariffs on Chinese goods. The company dubbed the tariffs a "made-in-America tax" and Soltau even testified before the administration on the duties. Joann directly asked its millions of customers to oppose the president's trade policies and warned shoppers that the tariffs will mean higher prices.