Ditching J.C. Penney for Lowe's Is a No-Brainer
(Bloomberg Opinion) -- The prospects for a turnaround at J.C. Penney Co. just got bleaker. Marvin Ellison, the CEO who helped pull the department-store operator out of the crater dug by previous CEO Ron Johnson, has been poached by a retail rival.
Lowe's Cos., the home-improvement giant, announced Tuesday that Ellison (a veteran of Home Depot Inc.) is to replace longtime leader Robert Niblock, who had earlier announced his intention to retire.
You might look at J.C. Penney's latest quarterly results – which included a paltry increase in comparable sales that executives blamed on weird weather – and wonder why the retailer should be particularly sad to see Ellison go. But over the long haul, it's clear he has done plenty of good for the struggling chain. Ellison pushed it to expand its appliance business, capitalizing on a void left in the market as HHGregg went out of business and Sears Holdings Corp. closed stores. He steered J.C. Penney to strengthen its plus-size apparel offering for both men and women, a prudent bid to court an underserved shopper constituency.
Also on his watch, J.C. Penney has dramatically expanded its line-up of Sephora shop-in-shops, which have been key drivers of sales amid a boom in beauty spending. To my mind, leveraging that partnership with Sephora has been one of the smartest moves by a department-store executive in recent memory.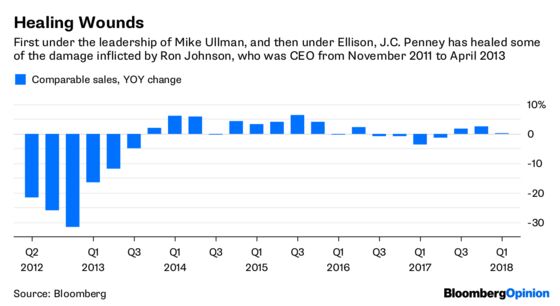 It's not going to be easy for J.C. Penney to identify a replacement for such a capable leader. I suspect many seasoned retail executives won't exactly clamor for the enormous challenge of making J.C. Penney relevant again. As Neil Saunders, managing director with GlobalData Retail points out, the mere fact of Ellison's defection may convince some would-be leaders that trying to fix J.C. Penney is a hopeless task. And the board has already learned the hard way with Johnson – a veteran of Apple Inc.  – that a shiny object from Silicon Valley doesn't necessarily have the answers.
It probably wasn't a terribly hard choice for Ellison to flee J.C. Penney for Lowe's. He had spent 12 years as a senior executive at Home Depot, so he knows the home-improvement business well. And at the helm of Lowe's, he won't have to lead a grueling turnaround effort. He'll have the simpler task of helping a healthy retailer stoke stronger sales and navigate the rise of e-commerce.
A comeback by J.C. Penney was always going to be hard. Losing Ellison is a major setback in that mission.