Ivy League Inks Biggest Sponsorship in Conference's History With TIAA
The eight-school league, which includes Princeton, Harvard and Yale, has a new one-year partnership with money manager TIAA that is the most comprehensive sponsorship in league history, according to league Executive Director Robin Harris.
TIAA will become the presenting sponsor of the Ivy League's year-end basketball tournament, March 16-17 in New Haven, Connecticut. The company will also have marketing opportunities at other league events, taking the pact beyond any the conference has signed before.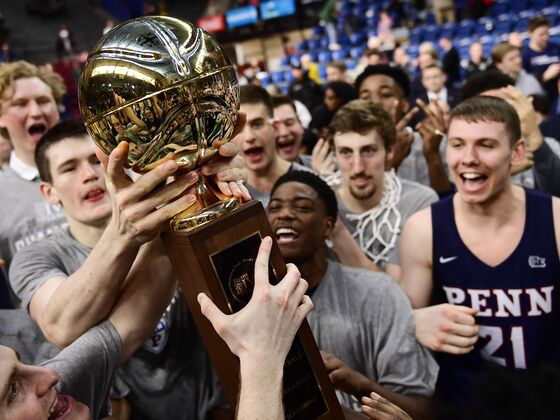 "They're a perfect partner," Harris said in an interview. "We're both steeped in tradition, and both at the forefront of higher education." She declined to comment on the financial details of the deal.
TIAA, which has nearly $1 trillion under management, launched more than 100 years ago as the Teachers Insurance & Annuity Association, providing life insurance and retirement services to educators. Though the mission has since expanded, higher education remains a core part of business at the company, which has no publicly traded stock.
The Ivy League partnership lets the company deepen its relationship with eight of the more recognizable brands in higher education, and gives it another avenue to tap into the conference's wealthy fan and alumni base.
Now in its third year, the basketball tournament is a good example of the type of opportunity the Ivy League is now looking to explore. For decades, as every other conference in Division I chose to crown its champion with a tournament at the end of the season -- a way to drive ticket sales, media deals and corporate partners -- the Ivy League stood pat.
That finally changed in 2017, when the league created a four-team event tied to a new TV deal with Walt Disney Co.'s ESPN. Called Ivy Madness, the men's and women's tournaments determine which teams receive the Ivy League's automatic berth in the NCAA Tournament.
That same year the conference signed its first corporate partnership since at least 2009, and has since added deals with Coca-Cola Co., Nike Inc. and Porsche. Those deals and the TIAA partnership were brokered by JMI Sports LLC, which the league hired in 2016 to manage its marketing rights.
Though the TIAA deal currently covers just one year, Harris said she expects it to expand beyond 2019. She added that heading into year three of the basketball tournament, the Ivy League has already accomplished its goal of having the event break even, while covering costs for the schools that participate.
"If we can generate some revenue, that's gravy," Harris said. "But at the end of the day, we want to price the tickets appropriately so we create the best experience."