Ivory Coast's President Won't Rule Out a Third Term
(Bloomberg) -- Ivory Coast President Alassane Ouattara declined to rule out running in next year's presidential election amid speculation he will seek a third term, a move that the opposition says would be unconstitutional.
"I want to organize the RHDP during the first quarter of this year so that we can pick our candidate next year," Ouattara told ministers and supporters of his newly created umbrella party Rally of Houphouetists for Democracy and Peace, or RHDP, at a party congress at the Felix Houphouet-Boigny stadium in Ivory Coast's commercial capital Abidjan on Saturday. 
Responding to the crowd chanting "Ado, Ado," a reference to Ouattara, he said "I will give you my answer next year."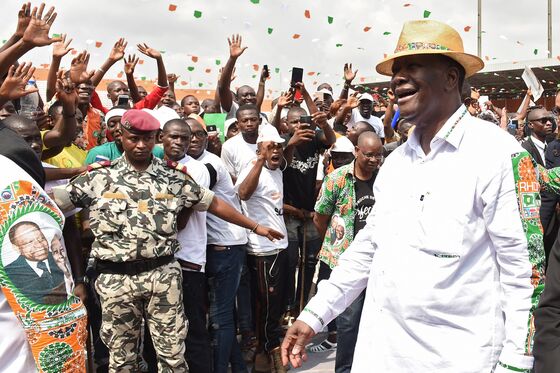 While Ouattara's ruling alliance has been the strongest political force in Ivory Coast for the past decade, the recent acquittal of former President Laurent Gbagbo by the International Criminal Court has shaken up local politics. Speculation whether the 77-year-old Ouattara will seek a third term led to the split of his governing coalition last year.
After Ouattara initially said he wouldn't seek re-election, he surprised many by telling the weekly Jeune Afrique last year that he was still deciding whether to run again. While Ivory Coast has a limit of two presidential terms, Ouattara's party says a constitution adopted in 2016 has reset the clock.
"I will assure the party stays in power, not only in 2020, but for decades to come," Ouattara said Saturday.
A unified party together with opposition leader Henri Konan Bedie was part of Ouattara's strategy to secure succession. The release of Gbagbo and a possible opposition coalition between his Ivorian Popular Front and Bedie's Democratic Party of Ivory Coast could galvanize the opposition's challenge against Ouattara before the 2020 presidential vote, Adeline Van Houtte, an Africa analyst for the Economist Intelligence Unit, said in an emailed note.