Italy Yield Tops 3% Before Budget Meeting as Bonds Extend Slump
(Bloomberg) -- Italian bonds slumped for the third day ahead of a budget meeting between the country's populist leaders and the finance minister.
Ten-year yields broke above 3 percent for the first time in nearly two months following a report by La Stampa newspaper that the gathering would take place at 11 a.m. Central European Time. Frictions between Finance Minister Giovanni Tria and Deputy Prime Ministers Matteo Salvini and Luigi Di Maio have rattled Italy's debt market since the formation of the country's government.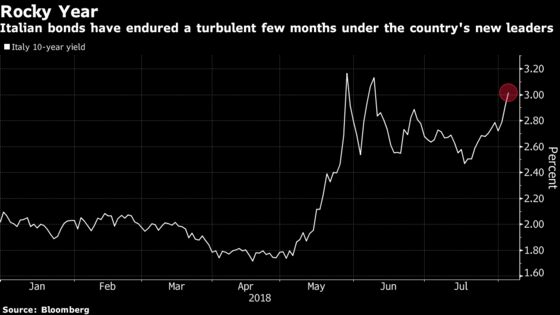 Italian bonds have been the euro-area's laggards this year as the country's new government has spooked investors with its anti-European Union rhetoric and plans for fiscal expansion. The League-Five Star Movement coalition has outlined plans to cut taxes as well as provide a basic income for the poorest. Newspaper Il Sole 24 Ore had earlier reported that the meeting was to have taken place on Thursday. The budget will be presented in September.
"The known tensions between Tria and the two deputy PMs mean that the stakes are high for this meeting," said Antoine Bouvet, an interest-rate strategist at Mizuho International Plc. "This sort of headline risk justifies holding tail-risk trades, such as curve flatteners."
Increased hedging via German swap spreads and selling across Euribor interest-rate futures signaled some investors were bracing for further declines in Italy's debt. A lack of liquidity in Italian bonds has helped compound the selloff, according to traders in London who asked not to be identified because they is not authorized to speak publicly.
Yields on 10-year government debt rose as much as 19 basis points to 3.10 percent, with the spread over those on their German peers rising 20 basis points to 264 basis points. The yield on two-year securities climbed as much as 40 basis points to 1.38 percent.
Data published Friday showed that Italy's manufacturing and services activity declined by more than expected in July, while industrial production expanded for a second month in June.