Italy to Skip Conventional Debt Sales Via Banks in Early Fall
(Bloomberg) -- Italy's Treasury is planning to skip its usual sale of euro-denominated, conventional debt via banks in early fall given the country's improving economic prospects, a person with knowledge of the matter said.
The Treasury aims to take advantage of the positive outlook to close the gap between Italian and Spanish debt yields, the person said, declining to be identified because the strategy is confidential. 
A spokesperson for the Treasury declined to comment. Italian bonds rallied after the report, with the yield on 10-year debt falling three basis points to 0.67%. That narrowed the spread between comparable German debt to around 99 basis points. Its gap versus Spanish counterparts was at around 36 basis points.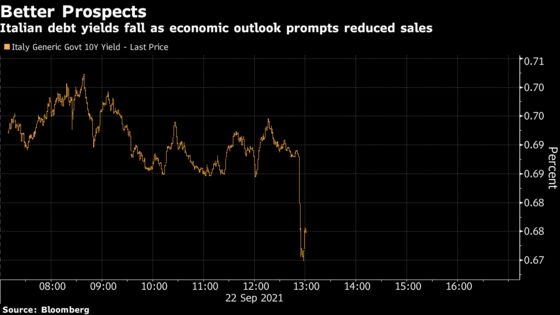 It would be the first time since 2018 that Italy skips a conventional debt offering during this time of year. Offerings through banks are more expensive than auctions, because borrowers pay a premium to ensure that the bonds are sold. But the method has proved a popular way to sell large amounts of debt.
As part of Italy's funding strategy for the coming months, it plans to issue a new retail bond, most likely a BTP Futura, and more green bonds, the person said. The nation's debt premium over German counterparts, a key measure of risk sentiment, is the least in about five months as the nation's funding needs eases.
Italian Premier Mario Draghi will present his first budget in the coming weeks after taking office last February. Growth is expected to near or even exceed 6%, allowing the government to start reducing debt from last year's record while keeping stimulus flowing to continue supporting the recovery.
The nation is the biggest beneficiary of the European Union's Recovery Fund, with about 200 billion euros ($235 billion) in grants and loans coming its way in the next few years. It received a first tranche of 24.9 billion euros over the summer.