Italy to Scrap Bad Loan Law That Could Have Saved Banks Billions
(Bloomberg) -- Italy's banks could face higher costs to sell bad loans as the government is set to scrap tax relief measures in next year's budget.
The government decided not to extend into 2021 a tax benefit introduced earlier this year to facilitate the disposal of non-performing loans held on the balance sheets of Italian banks. Lenders and customers have been severely hit by the pandemic crisis.
The norm isn't included in the budget law draft agreed by the government Monday, according to a version seen by Bloomberg News.
But the draft does include a new measure to favor the takeover of loss-making banks, allowing to buyers to boost their capital by transforming deferred tax assets from the purchased bank into tax credits. Lawmakers can still tweak the draft before it's approved by year end.
The support for NPL sales was introduced with "Cura Italia" -- a bill approved in March as the coronavirus pandemic spread around the country. It allowed banks to generate tax credits when they sold non-performing loans.
"Banks may face several billion euros of additional losses from any sale of bad loans" if the norm isn't extended, said Angelo Bonissoni, managing partner of CBA tax and law firm.
Since 2015, Italian lenders have removed more than 200 billion euros ($238 billion) of non-performing loans from their books, a legacy of the financial crisis. Much of the unwanted debt has been snapped up by specialist debt collection companies, hedge funds and private equity firms at bargain prices.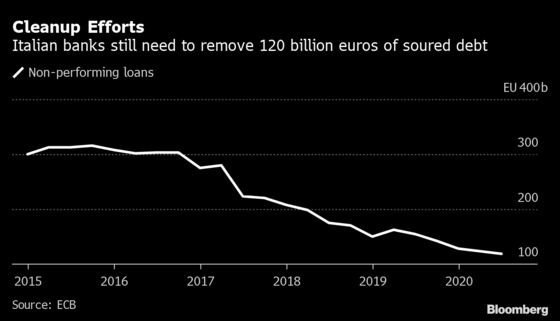 About 120 billion euros of soured loans are still sitting on their balance sheets, and more are likely to pile up with the Covid-19 recession. A failure to extend the tax relief could mean banks will need to take higher provisions to clean up their books.
"An extension of tax benefits from bad loan sales needs to be agreed with regulators," said Domenico Torini, a partner at KPMG in Milan. "I don't rule out that it can be included later on. It would be key to revive the NPL market in 2021."