Italy to Reject Unauthorized German Flights Carrying Migrants
(Bloomberg) -- Italy won't let unauthorized flights from Germany carrying non-European migrants land in the nation's airports, said Deputy Prime Minister Matteo Salvini in a move that could spark a new controversy among European Union partners over the issue of migration.
"If someone in Berlin or Brussels thinks of downloading on Italy dozens of immigrants with unauthorized charter flights, he must know that no Italian airport will be available," Salvini, who is also interior minister, said in a post on Instagram.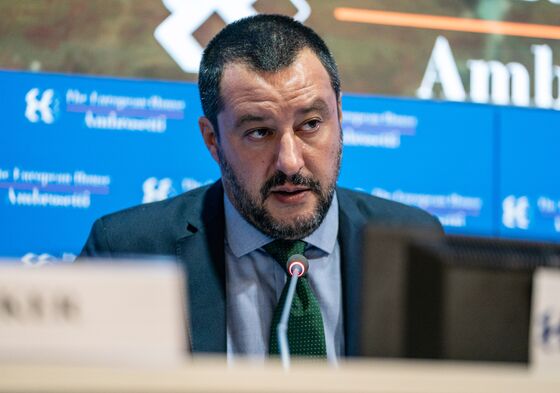 He was commenting on the potential return of non-European migrants who originally came ashore in Italy and then migrated to Germany where their asylum request was rejected.
Salvini's remarks came after the Corriere della Sera newspaper reported that 40 so-called secondary immigrants -- people who seek asylum in EU countries other than the one in which they arrived -- are scheduled to be sent by charter flight to Rome on Oct. 11, after their request for asylum had been rejected by the German government.
"We have given already -- we'll close the airports as we closed the ports," Salvini said in the post, which showed a picture of German Chancellor Angela Merkel and European Commission President Jean-Claude Juncker. It contained the hashtag #aeroportichiusi, or #closedairports.
Italy has been asking the EU to change rules dictating that asylum-seekers must make their request in the first EU state on which they set foot.
Salvini and other Italian government officials have clashed with the EU over migration, with the issue coming to a head over the fate of 177 migrants on a Coast Guard vessel that docked in Sicily's port of Catania in August. Salvini initially said that none of the migrants would be allowed to disembark until he obtained guarantees that other European countries would take most of them.
The migrants were eventually allowed to disembark, with some going to Albania and Ireland. In June, vessels carrying hundreds of migrants arrived in Spain after being turned away by Italy. EU member states meeting Brussels in late August were unable to reach a deal on a common approach to migration.