Italy Set for More Debt and Stagnation Without Reforms, IMF Says
Italy's crippling public debt is set to keep expanding amid chronically low economically growth, the International Monetary Fund said.

Saddled with Europe's largest debt burden, the country has benefited from the European Central Bank's expansionary monetary policy and a period of relative political stability to bring down yields. But its interest costs are still higher than its economic growth, forcing it to issue new bonds, and reduce spending and investment.
The IMF warned that debt -- already high at 135% of gross domestic product –- will increase in the long term owing to pension spending. If there were an adverse shock, it would rise "sooner and faster," it said in its yearly assessment of the country's prospects.

To escape this trap, the country needs to enact a "comprehensive package of reforms" to liberalize the labor market and improve competition. The IMF said the "weakening external environment and domestic policy uncertainty have complicated an already difficult economic and social situation."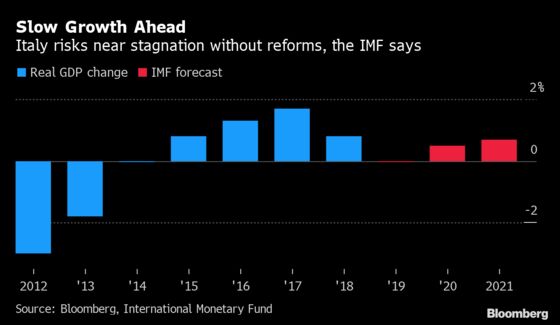 Prime Minister Giuseppe Conte, fresh off a victory in regional elections, wants his quarreling coalition partners to set out their priorities for the next three years. But so far his government has shown little appetite for far-reaching changes.
The IMF noted Italy's increased spending, even if it would be advisable to continue with fiscal consolidation for the next five years.
The report also said that Italy has made "substantial progress" in strengthening its banks. At the same time, non-performing loans remain above the European average. Capital levels are lower, highlighting the need for further work, especially for smaller lenders.