Italy Sees Deficit at 10.4% as Conte Scrambles to Save Economy
The Italian government of Giuseppe Conte is preparing for a wider deficit as it scrambles for resources to salvage an economy ravaged by weeks of stringent lockdown measures.
Officials expect the budget deficit to spiral to 10.4% of gross domestic product this year as activity is seen shrinking by 8% after an incremental nationwide shutdown since March 8.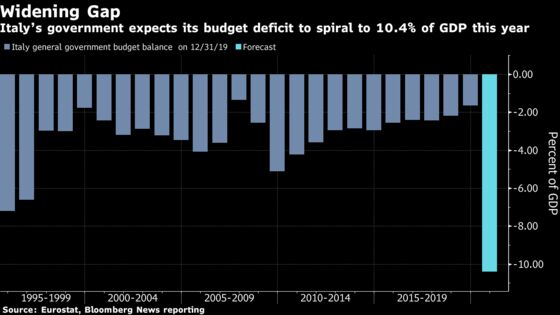 Conte will request parliamentary approval to widen the deficit by 55 billion euros ($59.4 billion) to fund new stimulus, according to the officials, who asked not to be identified discussing a draft economic and financial plan.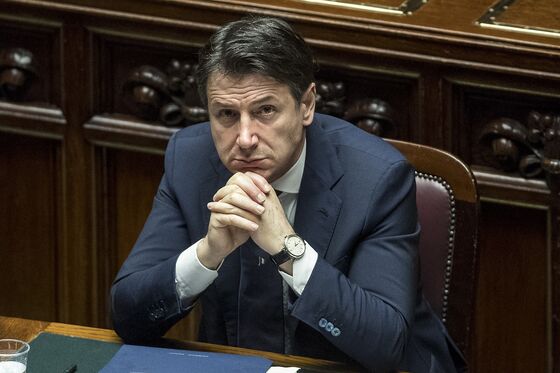 The premier and his team are engaged in a desperate battle to hold the country together after the virus blew a hole in its already shaky public finances. Officials say public debt will be at least 150% of GDP at the end of the year.
That's way beyond the level Greece was at when it triggered the sovereign debt crisis a decade ago. Rome is already reliant on the European Central Bank's emergency bond buying program to keep its borrowing costs down and the situation could get a lot worse. Bloomberg Economics is forecasting that the slump in GDP will be 13% this year -- five percentage points worse than Italy's projection.
With calculations still being refined, the deficit projection widened overnight from 10.3% seen on Wednesday. Government advisers are still working on the plan and details could change, the officials said. The cabinet is due to approve the program in coming days.
Conte's new plan sees growth of 4.7% next year, the officials said, and earmarks about 13 billion euros to help businesses with temporary layoffs and 12 billion euros in liquidity assistance for companies.
In a move that aims to shield the euro area's most vulnerable economies as they face the risk of credit downgrades, the European Central Bank will accept some junk-rated debt as collateral for its loans to banks, it said after policy makers held a call on Wednesday evening.
The ECB will accept bonds as long as they had an investment grade on April 7. The decision to ignore future cuts comes two days before a possible reduction for Italy by S&P Global Ratings.