Italy Seeks Digital 'Economic Miracle' on 5G Auction Proceeds
(Bloomberg) -- Italy's populist government is planning major investments in mobile and fixed networks if it's able to pull off a successful mobile-spectrum auction later this year, as the country bids to break out of its position as one of Europe's digital laggards.
The plan is to invest "all resources available in the ultra-broadband technologies of tomorrow like 5G networks, blockchain, artificial intelligence and quantum computing," Deputy Prime Minister Luigi Di Maio said Thursday during a speech on telecommunication strategy. That would allow Italy to "create the digital infrastructure that will be the basis for a new economic miracle," he said.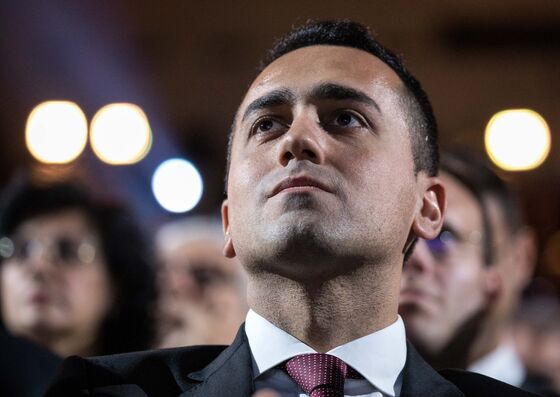 Di Maio, who's also economic development minister, said his ministry this month began consultations to auction the country's 5G wireless spectrum network. He expects the process to be completed by the end of September, generating proceeds of about 2.5 billion euros ($2.9 billion).
The starting price for the Italian 700 Mhz spectrum, currently used by TV broadcasters, is about 2 billion euros for six slots in total, and companies will be allowed to bid for a maximum of two slots.
A successful auction could offer a boost to the country's ruling coalition. The government, led by Prime Minister Giuseppe Conte and backed by Di Maio's Five Star Movement and the League, led by Interior Minister Matteo Salvini, has struggled to transform often-conflicting campaign promises from its two members into policy.
Some of Italy's biggest phone companies, including Telecom Italia SpA, Vodafone Group Plc's local unit and Wind Tre SpA, are threatening to boycott the auction on the basis that bidding rules are too rigid, Bloomberg News reported last month. Delays in allotting frequencies could also jeopardize the rollout of 5G in a country where internet speeds trail behind European peers.