Italy's Populists Clash as Five Star Cries Foul Over Tax Plans
(Bloomberg) -- As Italy's euro-skeptic government gears up for a confrontation with the European Commission over its budget, a separate clash has erupted between the two party leaders within the coalition.
Luigi Di Maio, head of the Five Star Movement, used a popular political talk show Wednesday night to claim that a tax decree approved along with the 2019 budget Monday night had been secretly altered to extend the scope of an amnesty. He called on the courts to find out who was responsible and press charges.
Matteo Salvini, the League leader who was on a trip to Moscow, denied that there'd been any fiddling while his office in Rome said the language in the decree had not been altered. Italian newspapers reported that in private Salvini was furious with Di Maio's comments.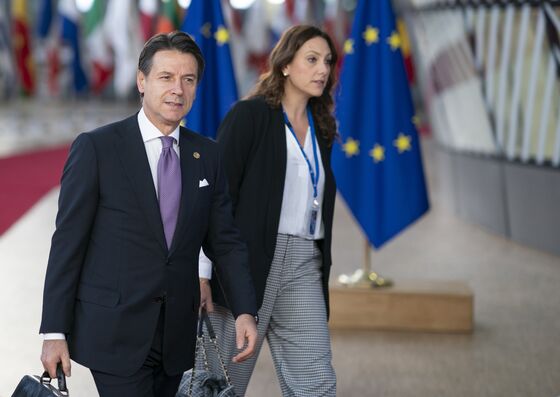 From Brussels, Prime Minister Giuseppe Conte played down any split in the government.
"There's no fracture," he said as he arrived for a European Union summit. He said he'd review the decree "line by line" when he returns to Rome Friday, before deciding whether to send it on to President Sergio Mattarella for approval.
The dispute cuts to the heart of the differences between the two parties who forged an uneasy coalition after the March 4 elections. Five Star grew out of citizens protest movements, and its mostly southern electorate is very sensitive about anything suggesting corruption or amnesties. The League was born out of small businesses in the north who think they are over-taxed by Rome.
"This text was not agreed in the cabinet. I don't know if it was a political or a technical hand" that intervened, Di Maio said Wednesday evening on the state television channel, RAI. "But we will not back this decree in parliament if it goes through like this. There is money laundering in it, there is everything."
The government had sought to sell the measures as a mechanism for settling tax disputes, rather than an amnesty. The limit for accessing the process was set at 100,000 euros ($115,000). The League had pushed for a ceiling of 1 million euros, according to local press reports. Di Maio said that language in the bill had been changed so that the decree would apply to amounts over 100,000 euros and to undeclared accounts held abroad.
Conte, meanwhile, is in Brussels Thursday for an EU summit where he'll have to defend an Italian budget that European leaders and the EU Commission say breaks Italy's commitments to bring down its deficit. Finance Minister Giovanni Tria will meet Thursday in Rome with EU economic affairs commissioner Pierre Moscovici to discuss the government's financial plans.
Conte described a Thursday morning meeting with German Chancellor Angela Merkel as "very cordial and serene."
The budget calls for a deficit equal to 2.4 percent of GDP, compared with the 0.8 percent shortfall agreed by the government swept out of power in March, and makes assumptions about economic growth that Italy's budget watchdog says are overly optimistic.
The budget and the tax decree agreed at a cabinet meeting Monday evening resulted from compromises between Five Star, whose signature campaign promise of a citizens income for the poor is seen as giveaway to southerners by many League voters, and the League's wish for tax breaks for businesses, which are seen as too generous by many Five Star voters.
"We know this is not the budget that the Commission was counting on, we expected the criticism," Conte said. "I'll explain the logic which is that we are targeting growth. We'll sit at a table and illustrate it. We are convinced by it, and I'm more convinced as the days go by that it's a very good budget."