Italy's Democratic Party Pushing Gualtieri for Top Finance Job
Roberto Gualtieri, a European lawmaker from the center-left Democratic Party, is the leading candidate to become Italy's next finance minister, according to officials in Rome.
The Democrats, who are forging a new coalition with the anti-establishment Five Star Movement, proposed Gualtieri for the job to Giuseppe Conte, who is set to return as prime minister, said officials from both parties who asked not to be named discussing confidential negotiations. Gualtieri is Conte's favorite for the post, although the choice has yet to be confirmed, according to another official familiar with Conte's thinking.
Conte is expected to report back to President Sergio Mattarella later Wednesday with a list of ministers and a policy program. The new coalition aims to take a more conciliatory approach toward the European Union after the previous Five Star-League alliance clashed repeatedly with the bloc over spending promises, roiling financial markets.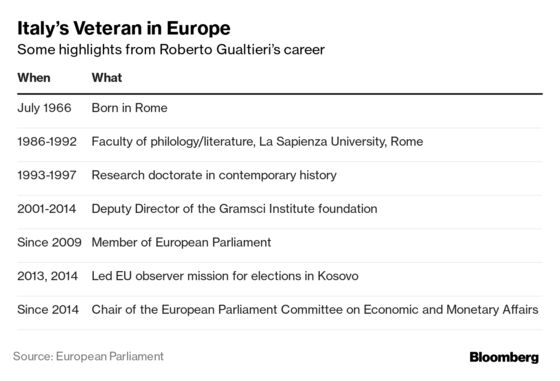 Gualtieri, 53, has headed the Economic and Monetary Affairs Committee in the European Parliament since 2014, where he has played a leading role in steering the EU's financial integration agenda. In that position he leads the quarterly hearings of European Central Bank President Mario Draghi and other top officials.
The formation of a coalition and the naming of Conte's cabinet brings Italy one step closer to resolving the political chaos that has paralyzed the nation since the anti-migrant League leader, Matteo Salvini, brought down the government last month. Italian bonds climbed to a record on the latest developments and stocks rallied.
Gualtieri, who didn't immediately respond to a request for comment, was due to lead a meeting with Draghi's designated successor, Christine Lagarde, Wednesday morning. But the committee's deputy chair, Ludek Niedermayer, said that Gualtieri couldn't be there due to "unforeseeable circumstances."
He was among Italian lawmakers who stood up to the ECB when it aimed to impose tighter rules on how banks provision for nonperforming loans. The supervisor was forced to back down somewhat in face of the opposition to the stricter guidelines, which would have been a problem for Italian lenders in particular.
Democratic Party leader Nicola Zingaretti has long been close with Gualtieri, and recruited him into the youth movement of the communist party.
Ex-premier Paolo Gentiloni, a member of the Democratic Party and deeply committed to the EU, is Italy's leading candidate for the new European Commission, the bloc's executive arm, according to the officials.