Italy's Weak Bond Sale Is Followed by Another Debt-Market Rally
(Bloomberg) -- Institutional investors offered little reassurance to Italy's leaders after a sale of inflation-linked bonds received the second-lowest orders on record.
Orders for the issuance totaled 2.16 billion euros ($2.46 billion), well short of analysts' estimates of as much as 8 billion euros ahead of the offering. Still, bonds traded in the secondary market rallied after Deputy Prime Minister Luigi Di Maio indicated that he sees room for dialogue on the nation's budget plans that are in breach of the European Union's spending rules.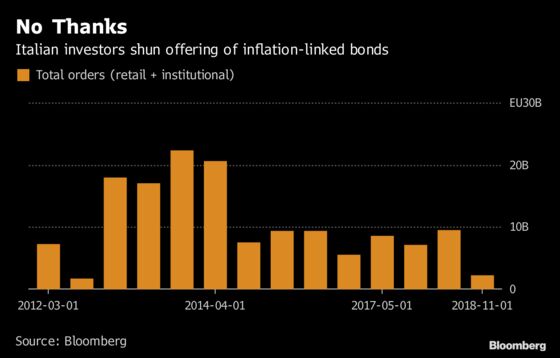 The outcome of the sale is likely to worry Italy's fledgling coalition at a time when the government wants to increase spending to boost growth.
"There isn't any reason to be buying BTPs if you don't have to," said Richard Kelly, head of global strategy at Toronto-Dominion Bank in London. "Demand is likely to remain OK but not great unless we actually see the government revising their budget in a way to placate markets and bring in spreads."
Matures in November 2022 and has a guaranteed real coupon of 1.45 percent

Sold in two phases: initially to retail investors from Nov. 19 to Nov. 21, and then to institutional buyers on Nov. 22

The order book of 1.3 billion euros for the institutional tranche was the second lowest for a BTP Italia issuance after 762 million euros in 2012, but well short of the 10.5 billion-euro high in 2014

Demand from retail investors was the lowest on record despite assertions from the country's leaders that citizens would step up and buy the country's bonds
In the days prior to the issuance, analysts had said the Treasury could raise as much 8 billion euros, though NatWest Markets revised it down to just 5 billion euros following the tepid response from retail investors who were offered the securities in the first leg of the operation.

BTP Italia were first issued in 2012 and are typically sold once every six months
Italian bonds have fallen significantly since the formation of the Five Star Movement-League coalition, with the spending plans threatening to blow out issuance as well as putting it in conflict with the European Union
Despite the European Commission condemning the budget in its assessment Wednesday, there were some signs of solace with Deputy Premier Matteo Salvini hinting that some tweaks could be made; he has since doubled down on the budget, saying that the government won't back down

Italian 10-year bond yields fell four basis points to 3.46 percent as of 10:56 a.m. in London

The spread over comparable German peers was at 310 basis points, shy of 341 basis points reached last month that was the highest level in five years
Italian Prime Minister Giuseppe Conte is scheduled to address the lower house of parliament with an "urgent" report on dispute with EU at 5 p.m. local time today, according to Ansa newswire
EU still needs to re-open the excessive deficit procedure, which could pave the way for fines of 0.2 percent of yearly economic output, rising to 0.5 percent if Italy still does not conform with the blocks rules
"We view the European Commission's action towards Italy as opening a new, calmer, phase for the BTP-Bund spread," wrote Mizuho strategists Peter Chatwell and Antoine Bouvet

"It is difficult for investors to remain short/under-invested the BTP market for this long due to the negative carry implications"