Italy's Daily Virus Recoveries Surpass Cases for First Time
(Bloomberg) -- Italy saw the number of recoveries from the coronavirus overtake that of new infections for the first time on Thursday, a sign that a nationwide lockdown is significantly checking the disease and starting to ease the burden on the country's health-care system.
Figures from civil protection authorities showed there were 2,646 new cases for the 24-hour period, compared with 3,370 a day earlier. The number of recovered patients was 3,033.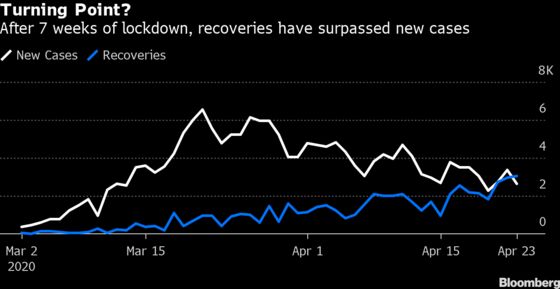 The data on recoveries comes weeks into a national lockdown that has crippled the economy but seen a leveling off in the spread of the disease, prompting Prime Minister Giuseppe Conte to plan a gradual easing of containment measures from May 4.
The unprecedented shutdown across the country, which began March 10, has closed factories, confined people to their homes and brought daily life in the country of 60 million to a near standstill.
"The numbers are particularly reassuring," Civil Protection chief Angelo Borrelli said during a press conference. Another encouraging sign is that the number of people in intensive care and in the hospital in general have both been decreasing since early April, according to authorities.
On Thursday, Italy reported that over 1 million people were tested in the country, with 18 percent of them positive.
"From May 4, the manufacturing, auto, fashion and design sectors -- along with many others including construction -- will reopen, but only if they guarantee social distancing and protection measures," Deputy Health Minister Pierpaolo Sileri said in an interview with Bloomberg earlier Thursday. Sileri, who himself tested positive for the virus last month and has since recovered.
Stores and shopping centers will be allowed to reopen in mid-May, but restaurants, bars, cinemas and theaters will remain closed for longer, as it is more difficult to guarantee social distancing there, the minister said. Schools will not reopen for several months.
Italy, the original European epicenter of the outbreak, registered 464 deaths linked to the virus on Thursday, compared with 437 the day before. That brings the total number of fatalities to 25,549. Confirmed cases now total 189,973.
The current containment measures shutter all non-essential businesses, ban movement within the country, and all but confine people to their homes except for buying food, going to work and seeking medical help.
The coalition led by Conte is preparing to widen the budget deficit by 55 billion euros ($59 billion) to fund a new stimulus package for the economy, according to officials who asked not to be named discussing an economic and financial plan.
Officials expect the budget deficit to spiral to 10.4% of gross domestic product this year as activity is seen shrinking by 8%. Public debt is seen amounting to at least 150% of GDP at the end of the year. The government approved an initial 25-billion euro package last month.