Italy's Conte Insists on Red Lines for Euro-Area Reforms
(Bloomberg) -- Prime Minister Giuseppe Conte insisted on Italy's red lines over reform of Europe's financial system, as he sought to placate critics within his fragile coalition.
Foreign Minister Luigi Di Maio, leader of the anti-establishment Five Star Movement that's a partner in Conte's second government, has denounced the reforms as penalizing the country. Italy's objections to changes such as limiting the amount of sovereign bond holdings of banks, earlier this month delayed the approval of a long-planned overhaul of the European Stability Mechanism, the euro area's bailout fund.
Conte's tough stance makes it harder to reach a compromise in coming months. At stake is the creation of a joint European deposit insurance program that would stabilize the financial system by reducing the risk of bank runs, the establishment of a budgetary instrument for the region, as well as additional steps to strengthen its institutional framework.
Briefing the lower house in Rome on Wednesday on preparations for the European Union summit in Brussels Dec. 12-13, Conte mixed reassuring signals on Italy's resilience with warnings of its demands. "The ESM is not against a particular country or in favor of any country at the expense of others," Conte said. "Italy has nothing to fear because its debt is sustainable."
EU leaders were supposed to sign off on the new ESM treaty at the summit, but will instead receive a letter on progress so far.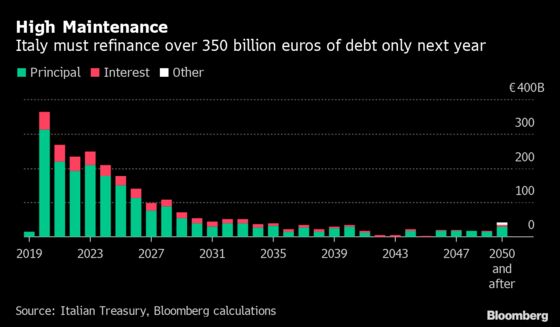 Conte listed his governments' other concerns on the issue, all aimed at avoiding any doubt over the stability of Italy's sovereign debt, Europe's largest.
"We see as negative measures that would limit sovereign bond holdings of financial institutions and banks," Conte said. "We take a negative view of any risk-weighting of sovereign bonds by changing their prudential treatment."
Di Maio's position has sparked fresh tension in Conte's coalition, which includes the pro-EU Democratic Party. Finance Minister Roberto Gualtieri, a member of the PD and a former EU lawmaker, had closely followed the negotiations in Brussels.
Members of Matteo Salvini's rightist League party accused Conte of "selling out" Italy during the parliamentary debate.
Conte's speech came after late-night talks on a parliamentary motion that includes changes demanded by Five Star, according to a party official. Lawmakers will discuss the reform again in January, before the next Euro group meeting, the official said.

The motion commits the government to seek progress on a package of measures – the ESM, the euro area's budgetary tool and banking union – while delving into "critical points," newswire Ansa reported. It rules out limits on sovereign bond holdings, and any mechanism which implies automatic restructuring of public debt.
The government prevailed in votes Wednesday in both the lower house and the Senate, despite four dissident Five Star lawmakers voting against the motion. Italian media reported that as many as three Five Star lawmakers could defect from the party in the wake of the vote.
Italian concerns have focused on strengthening collective action clauses, or CACs, which have been mandatory for sovereign bonds issued by euro-area states since 2013. The change would make it more difficult for small groups of creditors to block restructurings, as all euro-area member states commit to introducing single-limb CACs into the new euro-area sovereign bonds issued starting from Jan. 1, 2022.