Salvini Says Death Threat Led Italian Police to Missile Seizure
(Bloomberg) -- Deputy Prime Minister Matteo Salvini said that a probe into a plot by Ukranians to kill him led to the seizure of an air-to-air missile in the northern city of Turin on Monday.
Police detained an alleged neo-Nazi and two other suspects in an investigation into weapons trafficking that uncovered the missile, authorities said in a statement.
"The secret services alerted me about a Ukranian group who were making an attempt on my life," leading to the discovery of the weapon, Salvini said at an event in Genoa on Tuesday. "It was one of several death threats against me that arrive every day," news agency Ansa cited him as saying.
Investigators from Turin found an arsenal that included the missile, which suspects were allegedly seeking to sell, as well as assault rifles, pistols and bayonets, the police said in a statement. The missile had no explosive charge but could be re-armed.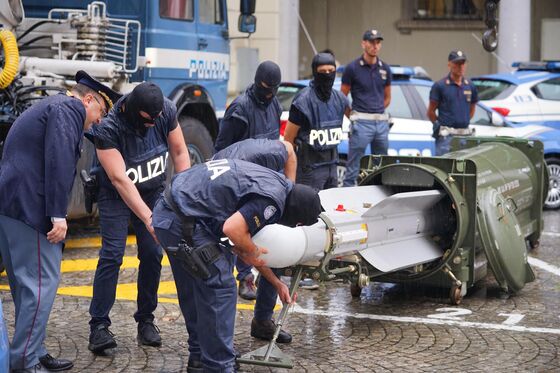 Authorities began an investigation about a year ago, focusing on individuals linked to ultra-right movements who had fought in the eastern Ukraine region of Donbas, the statement said.
The investigation later shifted to focus on suspected weapons trafficking, said Carlo Ambra, head of the DIGOS anti-terrorism police in Turin. Police found neo-Nazi insignia at the home of one of the suspects, Ambra said.