Italy Offers May Brexit Olive Branch as Grassroots Tories Revolt
(Bloomberg) -- Theresa May was given fresh hope of getting a post-Brexit trade deal from outside the U.K., even as members of her Conservative Party back home vented their anger at her proposals.
Matteo Salvini, Italy's far-right deputy prime minister, said his government would back Britain in trade talks and accused the European Union of trying to "swindle" U.K. voters out of their decision to leave the bloc. Salvini urged Prime Minister May to take a tougher stance with the EU.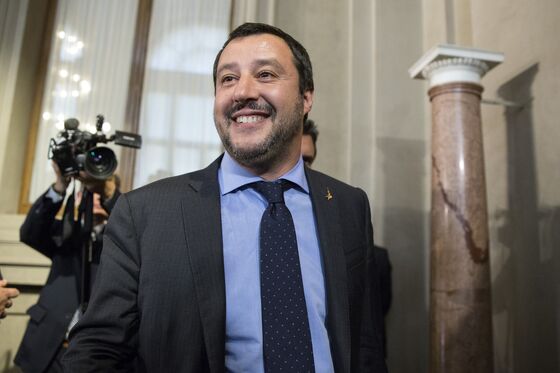 "There is no objectivity or good faith from the European side," he said in an interview with the Sunday Times newspaper, adding that Italy would welcome one-to-one talks with the British government on the issue.
Salvini commented after the EU's chief Brexit negotiator, Michel Barnier, on Thursday said May's customs proposal would never be acceptable. She thought her so-called Chequers plan was the best hope of getting a Brexit deal she could also sell to a divided Parliament.
May's plan seeks a compromise between hardline Brexiteers who want a clean break from the bloc and those who want to keep close links after the U.K. leaves next year. But few people are satisfied with the outcome.
Brexiteer cabinet ministers Boris Johnson and David Davis quit after the plan was approved by cabinet this month. And across Britain, May's cabinet members are reportedly facing a backlash as they return to their home constituencies for the summer break.
Local Conservative Party associations criticized their ministers who supported May's proposals to keep closer ties with the EU after it leaves the trading bloc, according to the Sunday Telegraph.
The chairmen of seven Conservative associations where cabinet ministers live, including May's own constituency in Maidenhead, said they opposed the Chequers plan as it stands, or would withdraw their support if she offered any further concessions to Brussels.
Brexit talks resume in Brussels in mid-August, and British and European officials will have just 10 weeks to finalize the complex set of international negotiations before their self-imposed October deadline.
If no agreement on a deal is reached, the U.K. could crash out of the EU on March 29, disrupting trade, creating chaos in financial markets, blocking manufacturers' supply chains and potentially causing shortages of food, fuel and medical supplies.
The government had planned to "gradually release" a series of papers this summer advising businesses, homeowners, farmers and other groups on how to prepare for a no-deal Brexit. Those documents will now be released at the same time in late August, the Sunday Times reported.
Ministers have prepared plans for the army to deliver supplies in the event of no deal, the paper said, citing one minister. Helicopters and army trucks would ferry medical supplies to vulnerable people outside southeast England, according to the plans that are usually prepared for civil emergencies.
The supermarket chain Aldi Stores Ltd has also warned suppliers to stockpile certain goods like tea and coffee, while the National Health Service would buy in medicines from outside the EU and stockpile in hospitals, according to the newspaper's report.