Italy's Bond Sale Is a Rude Awakening of Nation's Funding Needs
The good news is that demand for Italy's syndicated bond sale topped 110 billion euros ($120 billion).
The bad news is that the 16 billion euros it raised was a reminder of how much Italy needs the funds, as it confronts the possibility of losing its investment-grade rating. That sent its bonds on a downward spiral, with the yield on 30-year notes breaking above 3% for the first time since mid-March.
The sale came just days before S&P Global Ratings is set to review the nation's credit grade. It currently ranks it at BBB, two notches above junk, with a negative outlook.
"It's a perfect storm," said Antoine Bouvet, senior rates strategist at ING Groep NV in London. But "one way or another, they need to raise that cash," he said.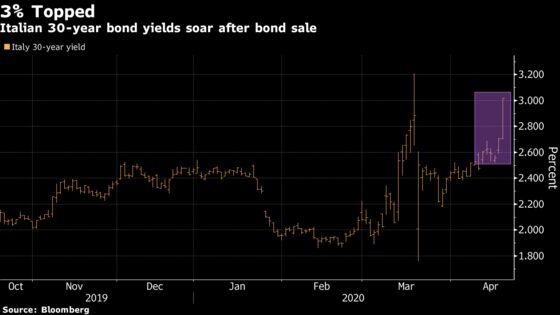 The premium investors demand to hold 10-year Italian debt over Germany's soared 25 basis points in the wake of the sale to 263 basis points. A rating downgrade would raise the prospect of another and see the yield spread widen further to 280 basis points, according to Goldman Sachs Group Inc.
Moody's Investors Service, which will review Italy in May, rates the nation at Baa3, the lowest investment grade.
Orders for a five-year syndicated offering smashed February's record of 50 billion euros, while the Treasury also issued a 30-year security. Long-end debt led a sell-off, with the 30-year yield rising 30 basis points, the most since the coronavirus sparked a market rout in mid-March.
"Today's price action serves as a reminder of the huge funding needs of European sovereigns," said Martin van Vliet, a strategist at Robeco. "The European Central Bank will likely need to do more than front load PEPP purchases," he said, referring to the institution's emergency quantitative-easing program.
Italy's bonds had earlier briefly pared their drop after Prime Minister Giuseppe Conte said the nation is ready to work with the European Union on a new European Stability Mechanism credit line.
Not Your Average Video Chat
EU leaders are set to hold a video conference Thursday, with countries such as Italy and Spain calling for joint debt issuance to share the costs of cushioning a pandemic-induced recession. Any such announcement should prove to be a boon for peripheral euro-area bond markets, though Germany and the Netherlands have so far opposed the proposal.
The nation could face an investor exodus should it be downgraded to junk, as many portfolio plans mandate an investment-grade rating. Goldman estimates that passive holdings of the nation's debt are at around 100 billion euros. Barclays Plc sees outflows of as much as 200 billion euros if the rating is cut below investment grade.
"Italy's proximity to the investment-grade cusp suggests additional market risk around upcoming decisions," Goldman strategists George Cole and Sara Grut wrote in a note to clients, before the debt sales. "The EU policy response is likely key to determine the next move."