Italy Mulls Partial Lockdown as Cases, Hospitalizations Jump
Italy is preparing to introduce the strongest virus restrictions since the end of a national lockdown in May as new cases surge and hospitalizations rise.
Prime Minister Giuseppe Conte's government could limit opening hours for bars and restaurants, shut entertainment venues, gyms and swimmings pools, according to a draft of the plan. Italians will also be urged not to travel. The government may seek to pass the proposal in the coming days, people familiar with the talks said.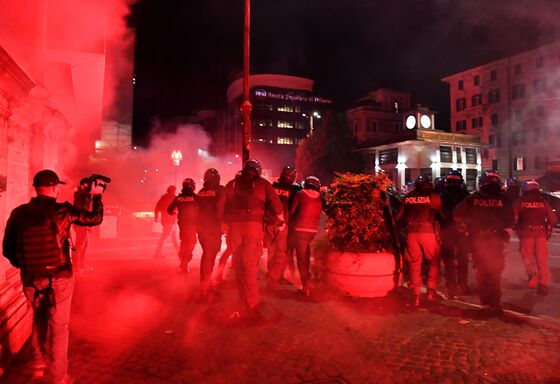 Italy, the original European epicenter of the virus, had managed to tamp down infections with a strict national lockdown. The easing of those restrictions coupled with people traveling more widely during the summer season has contributed to a new wave of cases that risks overwhelming the health-care system if unchecked. Still, Italians are beginning to chafe from restrictions, and a new curfew in the city of Naples set off violent protests on Friday.
Italy's Proposed Lockdown Measures
Bars, restaurants to shut at 6 p.m. on weekdays, close on Sundays
Cinemas, theaters, gyms and swimming pools to close
Casinos, bingo halls and game rooms will also close
Italians urged not to travel outside of their municipalities
Shops can remain open if they can guaranty social distancing
Schools and work places will remain open
Conte has repeatedly ruled out a new national lockdown, but he is running out of options as less restrictive measures have failed to damp the latest spread. New infections rose to a record 19,644 Saturday and there are now more than 1,100 people being treated intensive care units for the virus.
The government may also adopt new support measures to limit the economic impact of the virus, Finance Minister Roberto Gualtieri said. The government is mulling a 4 to 5 billion-euro ($4.7 to $5.9 billion) emergency decree to aid workers by extending furloughs and banning dismissals, according to people familiar with the matter.
On Friday, Vincenzo De Luca, president of the Campania region, called for a new national lockdown and said he will soon impose one in his region, which has Naples as the capital. "We are one step away from a tragedy, don't want to see coffins on the streets," he said.
Within hours of De Luca's announcement on Friday, protesters poured into the streets of Naples where some police vehicles were targeted by demonstrators and damaged by explosives.