Italy May Regret Throwing a Gauntlet Down to Bond Speculators
(Bloomberg) -- By challenging investors about its bond yields, Italy's government may have unwittingly raised borrowing costs for itself.
The nation's much-scrutinized yield spread over German bond yields is now front-page news, with Deputy Premier Matteo Salvini declaring Wednesday that he is "absolutely sure" the gap won't reach 400 basis points, about 1 percentage point higher than where it is now.
His statement is akin to a bull fighter holding up a red flag and is likely to invite speculators to take on the Italian government if only to test its pain threshold, analysts say.
If the gap -- known as "lo spread" in the nation's vernacular -- is breached, it may send a confluence of signals. Among them: a perception that Italian sovereign bonds are no longer investment grade. Indeed, Greek bonds -- which are rated junk -- now offer a spread of less than 400 basis points above Germany.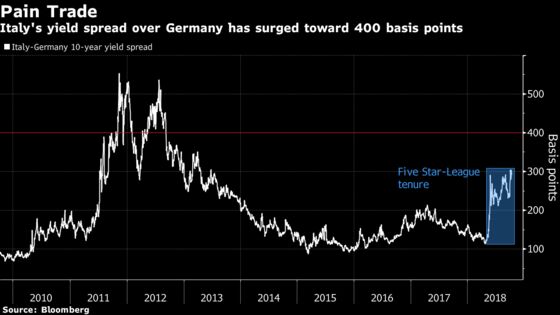 What may be worse is that a spread around there would raise fears of Italy exiting the euro and repaying its bonds denominated in the lira, its former currency, a risk that the markets aren't currently worried about.
"A spread of 400 would say they are not investment grade and the market has lost trust in the government coming round to a sensible path of deleveraging," said Luke Hickmore, a money manager at Aberdeen Standard Investments. There would be the "risk that the government then says, 'Well, we have taken all this pain already, let's go all-in and start thinking about a euro exit'."
Aberdeen Standard holds a short position on Italian bonds. Yields on the nation's 10-year bonds have surged almost 34 basis points this month to 3.49 percent, holding near the highest in more than four years.
Still, yields are well short of those seen during the height of the 2011 euro-area debt crisis, when they reached almost 7.50 percent. When peripheral euro-area spreads touched new highs then, the European Central Bank President Mario Draghi promised to do "whatever it takes" to save the euro. The ECB has since cut borrowing costs to record lows, pushing down pain threshold for investors.
JPMorgan Chase & Co. warned earlier last week week that a 10-year spread of 400 basis points, a level not breached since 2012, could be the "pain threshold" for the survival of Italy's fledgling government.
Being short on Italy remains an attractive trade, according to Janus Henderson Investors.
While many in the market may be fixated on 400 basis points, "I think it's really more about market conditions," said Ryan Myerberg, a money manager at Janus Henderson Investors. Shorting BTPs is still an attractive position to take as "there will be a high level of volatility for the foreseeable future - negotiations, potential rating agency downgrades."
For some money managers, the math doesn't work even at current spread levels.
"For Italy this rise in spreads is already a concern," said Alessio de Longis, who helps oversee $2 billion at OppenheimerFunds Inc. "When Salvini mentioned 400 basis points, that's just a bad strategy. You are giving the market a guidepost and it will take you there very quickly."