Italy Imposes Quarantine on U.K. Tourists in Blow to Economy
(Bloomberg) -- Italy introduced a five-day quarantine and mandatory testing for travelers from the U.K., a restriction that will weaken an economic rebound reliant on summer tourism.
Airlines declined on Friday's announcement, with shares in Ryanair Holdings Plc falling as much as 3.5% in Dublin. The U.K. is one of the biggest sources of travelers to Italy during normal times, though its role has been diminished as a rise in coronavirus cases slowed its travel reopening.
Britons will now have an easier time going to other European holiday destinations such as Greece and Spain, which present fewer restrictions.
| U.K. Summer Destination | Requirements on Arrival |
| --- | --- |
| Italy | Quarantine for 5 days, mandatory testing |
| France | Those fully vaccinated are exempt, others need "serious" reason to come and present negative Covid tests |
| Portugal | Requires just a negative Covid test, no quarantine |
| Greece | No quarantine, negative tests needed |
| Spain | No quarantine, unrestricted access, negative tests needed |
Italy is responding to new Covid-19 variants that have engulfed the U.K. despite its fast rollout of vaccines. The deterioration was made more apparent after hosting the Group of Seven summit along the coast of Cornwall.
The rise in new infections also threatens Britain's reopening to the rest of the world. There is a 10-day quarantine requirement for arrivals from the European Union, including Italy.
U.K. virus data remain consistent with analysis suggesting that two doses will keep about nine in 10 people who catch the disease out of hospitals. But it is a reminder that cases will still emerge even when vaccination reaches all adults.
The data were worrying enough to justify Italy's decision that Britons aren't welcome even after receiving two shots. The two countries are both hosts to major summits, with Italy leading the Group of 20 gathering this year.
"This decision is going to damage our business a lot," Giuseppe Roscioli, chairman of Rome's hotel owners association Federalberghi, said in a telephone interview. "I accept the fact that we need to be cautious. But why can't we welcome fully vaccinated people?"
Italian Prime Minister Mario Draghi said Friday he'll get his second vaccination from a different manufacturer after receiving a first dose from AstraZeneca. He said the flexibility will help keep Italy's vaccination campaign on track and boost his own immunity after a "low antibody response" to his first shot.
"There will be greater freedom of choice, so there is no reason to fear the vaccination campaign will slow down," Draghi said at a news conference.
In 2019, more than 6 million Britons visited Italy, where tourism accounts for 13% of economic output.
Italy's latest rules resemble most closely those in Germany, which is less tourism-dependent. Travel to Germany from the U.K. is subject to pre-departure digital registration and 14-day quarantine (with no exemptions and with no option to test out early even for fully vaccinated people).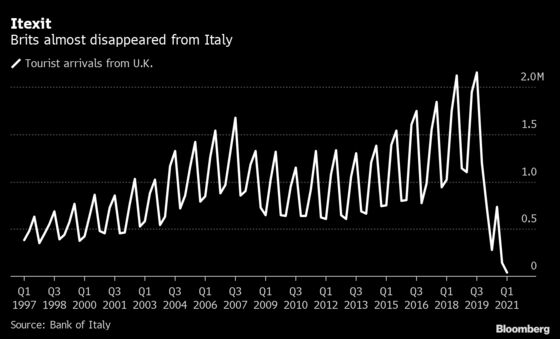 The move by Italy marks another challenge for the U.K. airline industry, which has already had to adjust to sudden changes in Britain's border policy. Shares of EasyJet Plc and British Airways owner IAG SA also declined.
Carriers have shifted planes to the continent this month as the U.K. slowed its easing of border restrictions, removing Portugal from its so-called green list that allows for entry without quarantine.