Italy Has Lowest Number of New Virus Infections in Seven Weeks
Italy posted its lowest number of new coronavirus cases in seven weeks on Monday, as Prime Minister Giuseppe Conte tentatively started to map a way out of a national lockdown and restart the economy.
Civil protection authorities reported 1,739 cases for the 24-hour period -- the fewest since March 10 -- compared with 2,324 a day earlier. Confirmed cases now total 199,414. The number of recovered patients rose by 1,696 to 66,624.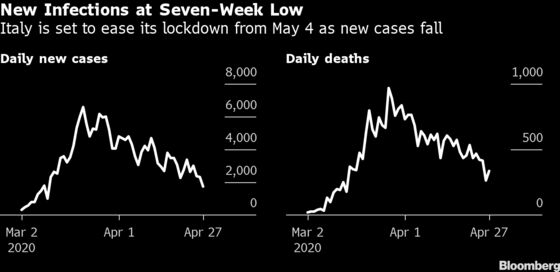 Conte late Sunday unveiled a timetable for Italy's so-called Phase 2, with construction and manufacturing to resume on May 4, and retailers and museums to reopen on May 18. Restrictions on Italians' freedom of movement will be slightly eased, following their virtual confinement at home since early March save for work, health and emergency reasons.
Under pressures from businesses and local leaders especially in the wealthy and worst-hit North, Conte warned that if Italians fail to respect rules including social distancing, the curve of contagion "will rise and could become out of control, the number of our dead will increase and our economy will suffer irreversible damage."
At stake is rescuing an economy that the government sees as heading for an 8% contraction this year, and that was trailing its euro-area peers even before the pandemic.
Italy, the original European epicenter of the outbreak, registered 333 deaths linked to the virus on Monday, compared with 260 the day before. That brings the total number of fatalities to 26,977.