Italy's Green Bond Demand Smashes Peers in Debut Offering
(Bloomberg) -- Italy's first foray into the sustainable debt market looks set to pull in the biggest-ever orderbook for a sale of green bonds.
The nation racked up over 80 billion euros ($97 billion) of bids for its 8.5-billion-euro sale of 2045 securities via banks, more than twice that seen for Germany's debut last year. European nations are piling into the market to finance a greener recovery from the pandemic.
"Investors are still buying like there's no tomorrow," said Jens Peter Sorensen, chief analyst at Danske Bank A/S. "The green investor base continue to grow."
The rush of demand allowed the nation to knock a few basis points off the pricing, the latest evidence of a so-called greenium for sustainable assets. Countries and companies issuing such debt, where spending is ringfenced for environmental projects, have often managed to achieve cheaper financing than from conventional bonds.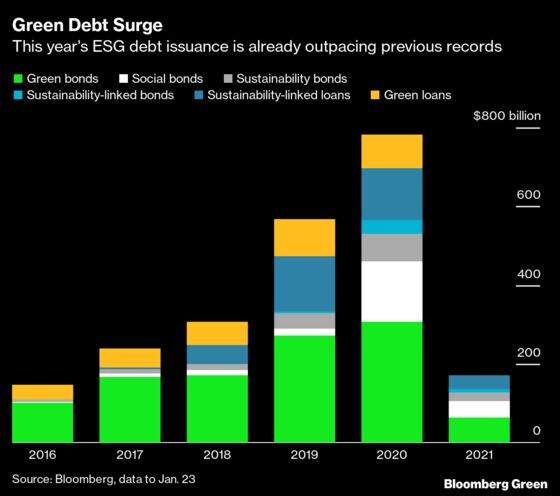 The strong interest comes despite the market's pullback from a year-long rally in Italy's bonds, following a global selloff. Investor sentiment toward the nation has improved following the appointment of former European Central Bank President Mario Draghi as Prime Minister this year, and its debt remains among the region's highest-yielding assets.
Europe is at the forefront of debt tied to more sustainable activities. The European Union has sold a series of social bonds tied to a jobs program and is set to become the largest green debt issuer after its recovery fund sales get underway later this year.
Italy published its framework for green bond issuance last week and said that it would align as much as possible with the EU's green bond standard, due in the coming months. The proceeds of the bonds will be used to fund projects from renewable electricity to biodiversity, while part of it will go to refinancing previous projects between 2018-2020.
Italy lowered the guidance twice on the sale to 12 basis points over its 2041 bonds, from 15 basis points initially. Previously, the 33-billion-euro orderbook for Germany's sale in September was the largest recorded, according to data compiled by Bloomberg.
The country mandated Credit Agricole SA and Intesa Sanpaolo SpA as structuring advisors, and those plus BNP Paribas SA, JPMorgan Chase & Co. and NatWest Markets to joint lead manage the sale.
"It comes at a perfect time," said Althea Spinozzi, a fixed income strategist at Saxo Bank A/S. "By issuing a green bond Italy ensures to have more attention from the market, therefore better bidding metrics compared to a traditional issuance. It's a win-win."