Italy Fell Into Deep Contraction Even Before Full Lockdown Hit
Italy's economy fell into a deep recession even before suffering the full effect of a drastic economic lockdown.
The euro area's third-largest economy shrank 4.7% in the first quarter, the biggest drop since the series started in 1995. The contraction, bigger than the 3.8% slump in the currency union as a whole, compares with a 5.4% forecast by economists.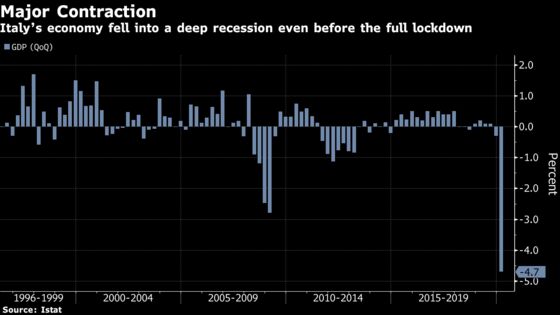 Yet the first-quarter decline only partially captures the effect of the restrictions to stop the coronavirus outbreak, which culminated with the stop to all non-essential economic activity on March 23.
This sets the stage for an even deeper slump from April onwards, with companies and businesses set to resume working only gradually from May 4. Italy's government forecasts that GDP will shrink 8% this year, while Bloomberg Economics sees the economy plunging 13%.
While the whole world is facing unprecedented economic damage from the pandemic and the sweeping measures enacted to stop it, Italy was already headed for a recession before the crisis. Its massive debt will swell beyond 150% of gross domestic product and the weakness of its public finances was highlighted earlier this week by the downgrade of its sovereign rating to just one notch above junk by Fitch.
What Our Economists Say
"The latest display, covering data available up to April 24, underscores the prospect of Italy's economy ending up more battered by the coronavirus pandemic than any other in Europe. Key indicators remain firmly in the red."
-- Niraj Shah and Tom Orlik, click here for the full Italy Insight
Italy is also struggling to enact fiscal stimulus as state-backed loans and liquidity are only just starting to reach the real economy. A new package of relief measures for companies and households worth at least 55 billion euros ($60 billion) had been promised by the end of this month but has now been postponed to May.
Italy High Frequency Data Dashboard