Italy Expects European Green Light for State Rescue of Bari Bank
Italy's government is confident that the European Commission will back its rescue of yet another failing lender, according to a senior member of the ruling coalition.
The government decided to intervene on Banca Popolare di Bari SCpa in the wake of mismanagement of the lender and mounting bad loans, Finance Ministry Undersecretary Pier Paolo Baretta told Bloomberg in an interview at his Rome office Monday.
"The dialogue with the European Commission is constant and preventive," Baretta said. "I don't see any particular complications, but instead a collaboration. If there are any observations, we will of course take account of them as always."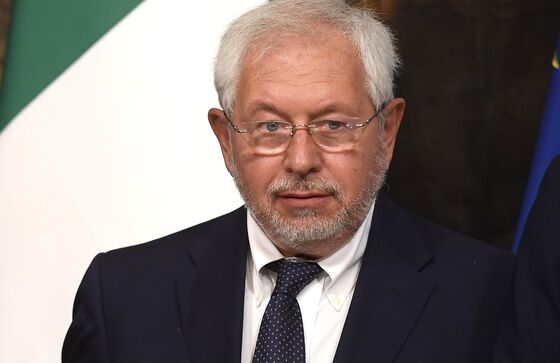 After the Bank of Italy placed the Bari bank under special administration Friday, the coalition of Prime Minister Giuseppe Conte decided to create a state investment bank for the nation's underdeveloped south. It published a decree that will inject as much as 900 million euros ($1 billion) into state entity Banca del Mezzogiorno-Mediocredito Centrale, or MCC.
Together with interbank fund FITD and potential investors, MCC will then take part in the restructuring of the Bari lender.
Read More: Italy Approves Rescue Plan to Save Lender Popolare di Bari
"Given the spreading of news on the bank being put under special administration, and the risk of panic, we had to intervene to safeguard savers," said Baretta. "We are not rescuing the bank, we are safeguarding it."
The government had long planned to create a new lender to boost economic growth in the south of Italy, and seized the Bari bank case as an opportunity to do so, Baretta said.
"The problem lies in the behavior of the bank's managers, which will be assessed by the judiciary, and the amount of non-performing loans which could have worsened the situation," Baretta said.
The state intervention may still fall foul of European Union rules on competition, despite Baretta's optimism it will be approved.
"We are in contact with Italy and stand ready to discuss with them on the availability and condition of the tools within the EU law framework," Arianna Podesta, a spokeswoman for the European Commission on competition matters, said earlier Monday.
Banca Popolare di Bari, based in the southeastern region of Puglia, racked up losses because of NPLs while working on a plan to raise capital. The situation mirrors that of Banca Carige SpA, which was placed under administration in January by the European Central Bank after the failure of an earlier fund-raising plan.