Italy Sells First Dollar Bond in a Decade Amid Strong Demand
(Bloomberg) -- Italy sold $7 billion of bonds, more than double an initial estimate, in its first offering of U.S. dollar-denominated securities since 2010.
Europe's second-most-indebted nation received orders surpassing $18 billion, helping it to widen its investor base by tapping the U.S. market. It sold $2.5 billion each of five- and 30-year bonds, as well as $2 billion of 10-year notes, according to data compiled by Bloomberg.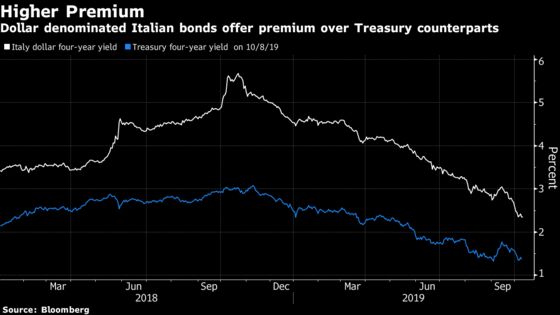 Italy's ability to increase the size of the sale is another sign that the hunt for yield is on -- earlier Wednesday Greece sold three-month bills with a negative yield for the first time, while Austria and Portugal are among other euro-area nations to have sold debt at record-low yields this week.
Italy has drawn more investors in recent months as a new coalition government reduced friction with Brussels over its budget. That's helped its bonds post the euro area's best performance this year with a 13% return, according to Bloomberg Barclays indexes.
The 10-year dollar-denominated securities priced at 150 basis points over mid-swaps, equating to a yield of about 3%, almost double the level for equivalent U.S. Treasuries.
Yields on Italy's 10-year euro bonds rose two basis points Wednesday to 0.87%, in line with moves across the region. Yields have slid 188 basis points this year, touching a record low last month. For a U.S.-based investor buying the euro bonds and switching back into dollars, that would turn into a currency-hedged yield of about 2.75%, meaning an effective premium of about 25 basis points for those opting for the new dollar bonds, according to Jens Peter Sorensen, chief analyst at Danske Bank A/S.
Barclays Plc, HSBC Holdings Plc and JPMorgan Chase & Co. arranged the dollar bond sale.