Italy Dismisses German Ruling as It Maps Way Out of Virus Crisis
(Bloomberg) -- Italian Finance Minister Roberto Gualtieri dismissed immediate risks to Italian bonds from a German court ruling which cast doubts over the European Central Bank's crisis-fighting program.
Gualtieri told lawmakers on Tuesday that the decision won't stop ECB asset purchases, which are crucial to keeping Italy's borrowing costs under control. But the increased uncertainty over the scope of the central bank's support will make it even harder for the country to map a way out of the economic crisis caused by the coronavirus pandemic.
Italian bonds dropped the most in the euro zone after the ruling, with the yield on 10-year bonds rising as much as 17 basis points. The gap with their German counterparts -- a gauge of risk -- widened to 250 basis points.
The country's finances are in focus because of the cost of its virus stimulus. The government of Prime Minister Giuseppe Conte passed an initial set of stimulus measures for its economy worth 25 billion euros ($27 billion). Another package worth at least 55 billion euros has been postponed several times amid political infighting and could now be approved later this week.
But aid, which largely relies on banks extending loans to companies with the state's backing, has been slow in reaching the economy. Gualtieri and Conte have asked lenders to speed up the process.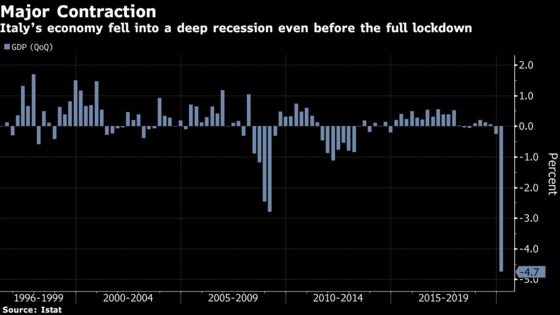 The expense of saving Europe's third-biggest economy could bring Italian debt well beyond 150% of domestic product. The government sees output shrinking 8% this year, while Bloomberg Economics forecasts a 13% contraction.
Gualtieri said he expects Italy to receive more than 160 billion euros from EU crisis aid programs. Some 20 billion euros are available from the unemployment benefit program SURE, 40 billion euros from the European Investment Bank while another 100 billion euros could come from a European recovery fund member states are considering.
Italy, the minister said, hasn't yet decided whether to apply for a credit line from the European Stability Mechanism, which would add another 36 billion euros.