Italy Curbs Social Life of Unvaccinated as Covid Cases Rise
(Bloomberg) -- Prime Minister Mario Draghi's government has approved new curbs targeting mainly unvaccinated people in a bid to shield Italy from a surge of coronavirus cases elsewhere in Europe.
Only those with proof of inoculation, a certificate known as the "super green pass," will be permitted to access venues such as restaurants, cinemas and theaters. The unvaccinated will still be allowed to enter their workplace after testing negative for the virus.
The rules which were approved during a cabinet meeting on Wednesday will apply starting from Dec. 6, according to a government statement.
"I hope we will have a good Christmas, it will be for those that are vaccinated, and I hope next year will be normal for all," Draghi said during a press conference in Rome.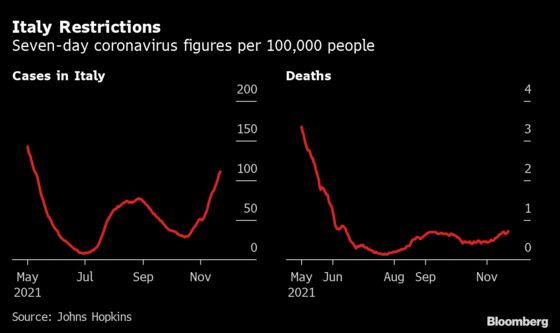 The clampdown in Italy was approved as Europe grapples with another wave of the disease. Austria has reimposed a full lockdown and is proposing compulsory vaccinations and Germany is discussing tougher measures.
Italy endured one of the worst outbreaks of Covid at the start of the pandemic. It now has one of Europe's highest inoculation rates, with 84% of the population aged over 12 fully vaccinated. But the country has been facing an increase in cases that threatens the Christmas tourist season. 
This week, the government shortened from six to five months the time frame to receive a booster shot. Sweden announced Wednesday that it will offer all adults a third dose of the Covid-19 vaccine, after a six-month gap, and France is discussing opening up boosters to more adults.