Italian Bond Sale Shows That ECB Taper Fears Are Overblown
(Bloomberg) -- Italy seized on a bond rally spurred by bets that monetary stimulus in Europe is here to stay for a while longer.
The government racked up more than 65 billion euros ($79 billion) of orders for its sale of new 10-year bonds on Tuesday, more than six times the amount on offer, which was at the top end of bank estimates.
While that's short of a record set when the continent was in the throes of the pandemic a year ago, it matches interest at the height of a bond rally in February, when yields fell to a record low.
Underpinning the demand are expectations that the European Central Bank -- which meets to set policy this week -- will hold off on a decision to taper its landmark bond-buying program until after the summer, a crucial backstop for the market even as the economy begins to recover.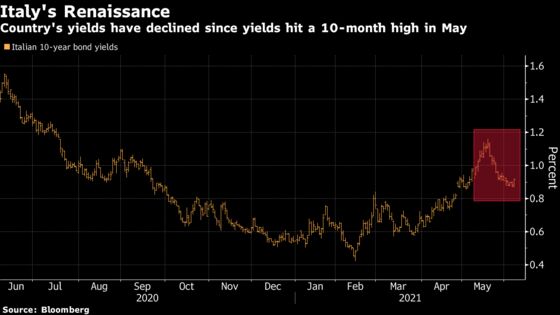 "The government has a solid cash balance, the economy is reopening, they get plenty of support from the ECB and EU," said Jens Peter Sorensen, chief analyst at Danske Bank AS. "What's not to like?"
Officials have recently had push back on speculation that the ECB is preparing to dial down its bond purchases, driving Italy's 10-year yield back below 1% last month, from 1.16%, the highest level since July. The securities led gains in Europe on Tuesday as weak economic data and a global internet outage bolstered demand for safer assets.
Pricing on the sale was tightened to around six basis points over existing debt, from nine initially, according to a person familiar with the matter, who asked not to be identified because they're not authorized to speak about it.
The nation's Treasury has denied reports that hedge funds face caps on how much debt they can buy, amid increased focus on inflated order books at syndications across the region.
BNP Paribas SA, Credit Agricole SA, Goldman Sachs Group Inc., HSBC Holdings Plc and Intesa Sanpaolo SpA were mandated to be joint-lead managers for the sale.