Italy Sees Steady Demand for Its First Mid-August Sale in Decade
(Bloomberg) -- Investors gave the thumbs up on Italy's attempt to capitalize on low borrowing costs by scooping up the full amount on offer at a sale of debt Thursday.
Demand for 30-year debt which yields almost twice as much as peers in Spain and Portugal, fell to 1.4 times the offered amount from 1.7 times at the prior conventional auction last year, but 351 million euros ($415 million) more was sold Thursday. It's a maturity that's only been on offer twice in 2020, but both times were through banks.
The heavily indebted country's break with the traditional summer lull came after it benefited from the response to the pandemic from the European Central Bank and European Union. The combination of fresh bond-buying stimulus and agreement on a historic, bloc-wide recovery fund pushed Italian debt rates down from their March peak, narrowing their premium over safer German counterparts.
That left 30-year bonds offering a yield of around 1.91%, well above its Spanish and Portuguese equivalents of just over 1%.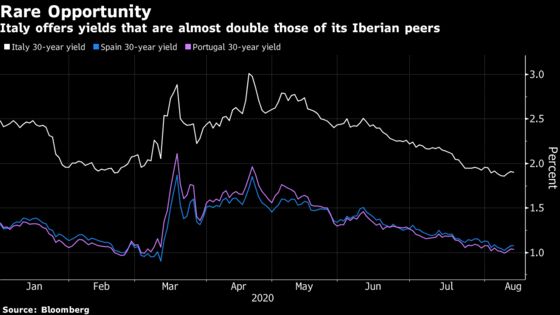 Oversubscription rates for the shorter three- and seven-year tenors were steady with the Treasury selling a total of 6.75 billion euros as it seeks to fund its response to the pandemic hammering its economy.