Italy Bond Turmoil Far From Over for HSBC as EU Tensions Linger
(Bloomberg) -- Things are likely to get worse for Italian bonds before they get better.
That's the message from HSBC Holdings Plc after Italy's government decided last week to set its 2019 budget deficit target at 2.4 percent, roiling markets. That has prompted Chris Attfield, a fixed-income strategist at the bank, to revise wider his year-end forecast for the yield spread between Italy's 10-year bonds and German bunds.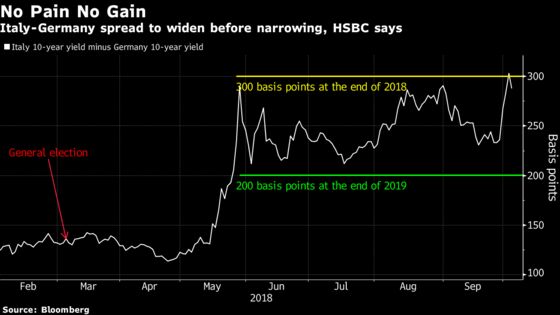 Attfield now forecasts the spread will expand to 300 basis points by the end of 2018, compared with a previous prediction of 230 basis points, made on Aug. 7. The earlier forecast was predicated on the assumption that Italy's budget would be "less concerning to the market than initially feared." The yield spread was around 280 basis points Thursday.
Still, the premium will shrink to 200 basis points by the end of 2019 on the assumption that the sovereign debt is expected "to continue trading far from any 'fair value' level for its rating," Attfield wrote in a note Wednesday.
Italy's sovereign bonds rose earlier Thursday after the government cut its deficit targets for 2020 and 2021. However, this is unlikely to be enough to avoid a rejection of the budget proposal by the European Union commission, according to BNP Paribas SA economists, including Luigi Speranza.
They forecast that Moody's Investors Service, which has Italy's sovereign rating at Baa2 with a negative outlook, will downgrade the debt by one level at the end of October. Strategists at the French bank, including Eric Oynoyan, expect "initial relief to be followed by greater focus on the budget details, with BTP volatility set to persist into year-end."
Rates strategists at Goldman Sachs Group Inc. led by Alessio Rizzi expect the premium to remain in the upper half of its post-May range of 220 to 300 basis points, while Diana Amoa, a money manager at JPMorgan Asset Management, says a spread of around 280 to 290 basis points is still not attractive enough, given "a budget deficit of 2.4 percent, with the best of the growth in Europe for now seemingly behind us and an ECB that's no longer buying."