Italy Blows Off EU Warning Shot Over Mounting Budget Deficit
(Bloomberg) -- Spin, bluster and outright hostility marked the Italian government's reaction to the latest European Union warning that the country's fiscal situation is set to worsen this year and next.
The backlash sets the stage for a replay of the budget conflict between Rome and Brussels that roiled markets last year as the populist administration seeks to deliver on its election pledges regardless of its financial constraints.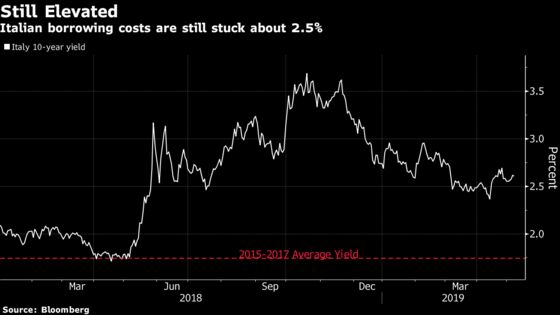 Finance Minister Giovanni Tria said the commission's numbers are basically in line with Italy's draft budget last month, as they don't take into account a possible VAT hike or equivalent corrective measures to keep finances under control. "In this sense, that forecast appears to be more a political than an economic one," Tria told reporters in Paris.
Deputy Prime Minister Matteo Salvini, in typical fashion, was more blunt. "I was reading the European forecasts on my way here, they never got one right," he said at a campaign rally, in comments cited by Ansa news agency.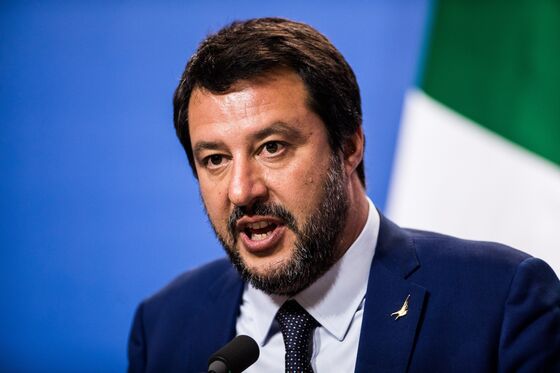 Salvini, whose League party shares power in the populist coalition with Luigi Di Maio's Five Star Movement, also ruled out the kind of measures the finance minister had suggested could make up the difference. "I'm not even thinking of increasing VAT and taxes," he said.
On Wednesday, news wire Radiocor reported that Salvini said taxes should be cut even if this breaches the EU's deficit-GDP limit of 3 percent. The commission sees the budget gap reaching 3.5 percent in 2020, assuming no change to fiscal policy.
While Italy's bond yields are below the highs reached in 2018, they remain elevated compared with their level before Salvini and Di Maio came to power.
Where Salvini was blunt, the anti-establishment Five Star sniffed a plot, accusing the commission of trying to take the government down.
They called the figures released Tuesday "bogus," according to a statement from party lawmakers in the lower house's budget committee. On top of that, there were accusations that the EU wants to damage a government "that's hostile to the diktats of Brussels and that wants to work in the interest of Italians."
Prime Minister Giuseppe Conte, usually seen in Brussels as a more reasonable interlocutor than Salvini and Di Maio, called the commission's forecasts "ungenerous," in comments cited by Ansa. They suggested a "prejudiced attitude," Conte said.
Despite the new tussle looming with Brussels, Salvini pledged to raise his promise of a so-called "flat tax" at a cabinet meeting due Wednesday morning. The gathering could mark a new low in relations between the fractious coalition partners, with Conte, backed by Five Star, expected to push through a call for the dismissal of a League undersecretary named in a corruption probe.
The new forecasts could force the government to "find" 35 billion euros ($39 billion) to offset "missed corrections" for deficits in the last two years, Il Sole 24 Ore reported Wednesday. But with sluggish growth forecast for this year, it's going to be hard to boost revenue.