Italian Spread Is in No Man's Land With Budget on Collision Path
(Bloomberg) -- Implied volatility on Italy's 10-year bond futures climbs as the government stands firm on its budget plans, which appears to set it on a direct collision course with the European Union.
Wings should be in focus via call spreads on any limited BTP outperformance driven by conciliatory budget comments and subsequently, outright puts may attract, given concerns over debt sustainability in the medium term. Still, liquidity remains problematic following unprecedented price action seen in May.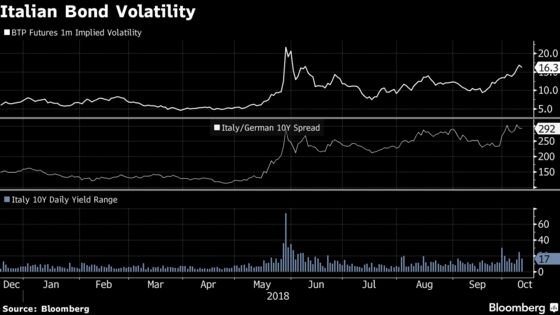 Double-digit basis point swings becoming commonplace with 10Y BTP yields +14bps Tuesday morning, before ending the day -9bps, driven by Italian political noise; budget proposal still on a conflict path leaves the BTP/Bund spread vulnerable below 300bps
Impaired market depth on heightened volatility increases risk premium demanded and while current spread levels may ultimately offer value over the medium term, the near-term risk-adjusted return keeps asset allocation cautious; sentiment to be tested at Thursday's bond auction
BTP sell-off is yet to cross the contagion threshold and leaves no change to the ECB approach, with limited spillover to peripherals; Italian CDS imply ~7% probability of currency redenomination in the next five years, based on the spread between 2014-2003 contracts (see more here from Oct. 8 on limited contagion, but remains vulnerable to higher beta)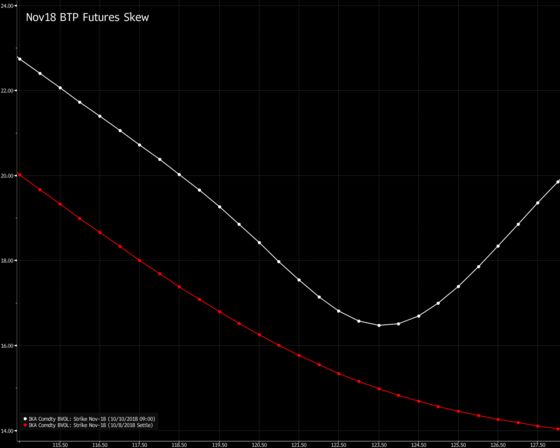 Italian noise machine continues: Tria says Wednesday the government will keep fiscal targets despite rejection by the budget watchdog; said Tuesday "would act in case of an unexpected rise in bond spreads" and current spread is "unacceptable" and hopes to bring it down by explaining the budget measures; Salvini: "absolutely sure" the spread won't break 400bps
NOTE: Tanvir Sandhu is a global interest-rate and derivatives strategist who writes for Bloomberg. The observations he makes are his own and are not intended as investment advice