Italian Markets Set for Relief as Risk of Junk Rating Retreats
(Bloomberg) -- Italian government bonds, stocks and debt from Europe's other peripheral nations may rally on Monday after a ratings decision by Moody's Investors Service removed the immediate threat of a downgrade to junk.
Moody's cut Italy's credit rank by one step to Baa3, its lowest investment-grade rating, on concern the government's budget will erode its fiscal strength and stall plans for structural reform. But its decision to set the outlook for the assessment at "stable" may be enough to reassure investors after a selloff pushed yields on the nation's 10-year bonds to the highest since 2014.
"This was the softest move possible and should be a relief for investors," Ciaran O'Hagan, the head of euro-area rates strategy at Societe Generale, said in emailed comments. He recommended investors buy Italian government bonds after the decision. "Uncertainty has been removed. This deserves to be rewarded with a good rally."
| Company | Rating | Outlook | Notches above junk |
| --- | --- | --- | --- |
| Moody's | Baa3 | Stable | 1 |
| Standard & Poor's | BBB | Stable | 2 |
| Fitch | BBB | Negative | 2 |
| DBRS | BBBH | Stable | 3 |
Italy's financial markets have been under pressure since the coalition government pushed for a higher-than-expected deficit in its budget, damaging investor confidence in its ability to reduce its 2.3 trillion-euro ($2.7 trillion) debt load and setting it on a collision course with European authorities. It also raised concern ratings firms would cut the nation below investment grade, triggering forced selling of government bonds.
While it leaves Italy with its lowest credit rating since the euro was formed, the downgrade fell short of investors' worst expectations, paving the way for a relief rally. The 10-year yield touched 3.81 percent on Friday, a level last seen in 2014 when the nation was still recovering from Europe's sovereign debt crisis. And while the securities did stage a late-day bounce to close at 3.48 percent, that's still more than double this year's lows and represents a premium of more than 300 basis points over benchmark German bunds.
By some measures, Italian bonds had already been trading in line with junk-rated nations.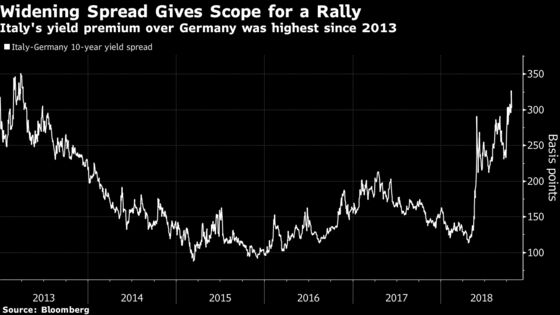 SocGen wasn't alone in expecting Moody's to stick at a "stable" outlook. A one-step downgrade may see the 10-year yield spread narrow toward 250 basis points, Banco Bilbao Vizcaya Argentaria SA said before the decision. Strategists at Citigroup Inc. said the yield gap would drop below 300 basis points in their base-case scenario of a one-notch downgrade and the removal of the negative outlook.
Morgan Stanley's economist Daniele Antonucci held a similar view, commenting in a note on Friday that a one-notch downgrade by Moody's with a "stable" outlook will probably result in a 30-40 basis point gain for Italian bonds. This removes a non-trivial risk of a "negative" outlook, which could have seen yields rise by more than 50 basis points, he wrote.
S&P Global Ratings, which rates Italy two notches above junk, is due to review the country on Oct. 26. Having upgraded Italy this time last year, that company "is not going to want to yoyo around," SocGen's O'Hagan wrote. Once its decision is out of the way, it will "eliminate one more uncertainty in the lead-up to year-end," and that will translate into higher prices for Italian government bonds, he said.
Still, there are plenty of question marks hanging over Italy. Its swollen debt relative to its gross domestic product gives the government little financial wiggle room, while it remains under pressure due to internal disputes within the volatile coalition at home and European Union criticism of the budget.
The country's biggest newspapers have already been running front-page stories about the bond spread as investors balk at the budget targets unveiled by the populist government. It may take further reassurances before "lo spread" -- which entered Italian vernacular when the country was struggling to survive the European debt crisis -- moves back out of the spotlight.
The prospect of turmoil within the ruling coalition is likely to become the dominant theme for bond investors from now on, according to Raffaele Bertoni, head of debt-capital markets at Gulf Investment Corp. in Kuwait City.
There's a continued "risk of tension within the coalition over the budget," Bertoni said in a Bloomberg TV interview. "Going forward, the market will focus more on the internal issues of the Italian government rather than the rating."
The spread will tighten no more than 20 basis points on Monday, Bertoni added.
Italian bond futures will begin trading at 8 a.m. local time on Monday. Ahead of the European open, the euro currency was holding steady against the dollar.