Conte Seeking Italian Budget Deal to Stamp Authority on Cabinet
(Bloomberg) -- Terms of Trade is a daily newsletter that untangles a world embroiled in trade wars. Sign up here. 
Prime Minister Giuseppe Conte, who's pledged that he'll be more than just a mediator in Italy's new government, is facing a rebellion in his coalition over budget priorities before a cabinet meeting Monday.
Conte, an academic-turned-politician who is not a member of either ruling party, called leaders of the Five Star Movement and Democratic Party coalition together for talks late Sunday in a bid to forge a consensus on the 2020 finance plan. Some Five Star lawmakers had warned they would vote against the budget in parliament if it contains changes to value-added tax that increase the burden on households.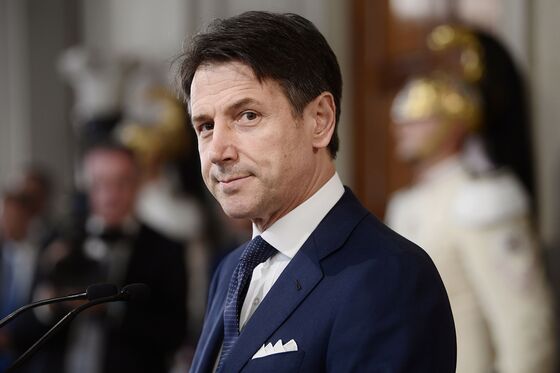 Finance Minister Roberto Gualtieri of the Democratic Party, or PD, said over the weekend that Italy will commit to a slightly expansionary budget and acknowledged that the government is weighing options to change the structure of VAT. That caused immediate friction, as some Five Star lawmakers vowed that even minimal changes would be unacceptable.
Sunday's four-hour meeting, which ended in the early hours of Monday, was one of the first tests of Conte's ambition to impose his authority after he was often reduced to the role of referee by his populist deputies in the previous administration.
The government must find some 23 billion euros ($25 billion) in revenue if it wants to avoid an automatic VAT increase. While the coalition and opposition parties all oppose the tax rise, PD lawmakers favor some changes in the structure of the levy -- raising rates on luxury purchases, for example -- to fund cuts elsewhere.
"Wouldn't you want to adjust VAT on truffles and lower it on utility bills?," a PD leader was quoted as saying by newspaper La Stampa.
Some lawmakers are not so sure. In an unexpected alliance between one-time enemies, Luigi Di Maio's Five Star has aligned itself with former Premier Matteo Renzi's new Italy Alive party in insisting the tax remains completely untouched. Both groups are seeking to blunt any criticism on backsliding over campaign promises from the opposition -- particularly Matteo Salvini's rightist League.
"We formed a government to send Salvini home and to avoid raising VAT," Renzi said in a Facebook post Monday. "Raising VAT would be a slap in the face for consumers, particularly the poorest."
Conte's cabinet will meet Monday evening to put the final touches on a budget framework it will then present to parliament -- though the cabinet meeting has already been postponed once, as party leaders haggled last week over the numbers.
Conte is trying to contain the deficit to around 2% to 2.1% of economic output next year, as he seeks to reassure the European Commission and investors about the finances of one of Europe's most indebted countries.
Gualtieri said that he would "rather be in the middle right from the beginning," hinting that the number for 2020 would be between this year's original goal of 2.4% and the revised target of 2.04%.
The 2020 budget will be fully compliant with EU rules, as Italy focuses on boosting the country's credibility within the bloc, a government official said last week.