Italy Economy Contracted, Complicating Populist Growth Plans
(Bloomberg) -- Italy's economy contracted in the third quarter, in a revision that will complicate the populist government's growth plans.
Statistics agency Istat's final reading showed the economy shrank 0.1 percent in the three months through September, after a preliminary reading on Oct. 30 showed no change. It was the first contraction since the second quarter of 2014.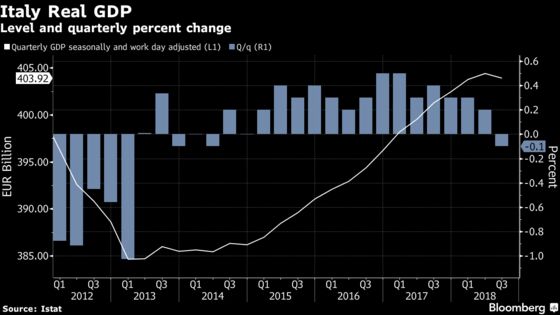 Istat said Friday that lower domestic demand and a fall in investments slowed the economy in the third quarter, while exports kept up their pace.
"The new government is not helping but it's a combination of factors," said Marc Ostwald, global strategist at ADM Investors Services. "The underlying structural weakness in productivity continues to be the biggest headwind, and as many have observed the proposed changes via the budget do not address these."
The government is looking for growth 1.2 percent this year. To reach that goal, the economy would need to grow 1.2 percent in the current quarter, Bloomberg calculations show, and all recent data show that growth spurt is not happening.
Italy's government is aiming for a major boost from its economic program, to increase employment while letting thousands of workers retire earlier. However, the plan with a 2.4 percent deficit target for next year has run into a firm "no" from the European Union.
On an annual basis, the Italian economy expanded 0.7 percent in the third quarter. That was a slight revision downward from the 0.8 percent growth in the original reading.
Separately, Italian Deputy Premier Matteo Salvini told SkyTG24 in an interview on Friday that core measures such as citizens' income and pension reform may cost less than originally forecast, thus allowing a slight cut in next year's budget deficit.
Preliminary findings of a technical analysis suggest that the 16 billion euros set aside for the populist government's key measures could be too high, Salvini said during the television interview. On Thursday Salvini had said the deficit target won't go below 2.2 percent of gross domestic product and that part of any extra funds will go toward fixing infrastructure.