Italian Business, Consumer Sentiment Drops Amid Virus Lockdown
Confidence among Italian businesses plunged this month as the economy was put into a dramatic lockdown in response to the rapid spread of the coronavirus.
The economic sentiment index fell to 81.7 from 97.8 in February, a decline that statistics office Istat described as a "crash." All sectors, from manufacturing to construction, services and retail, saw savage declines in confidence. The consumer confidence climate also dropped. The methodology to calculate the numbers was modified in 2013.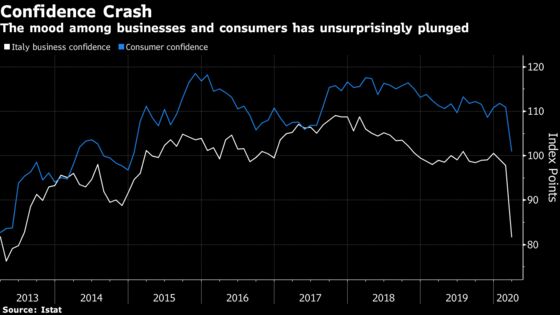 The fall in Italy is being reflected in surveys across the continent as countries impose tough measures to deal with the pandemic.
Measures of sentiment in Germany and France, the euro area's two largest economies, have also plunged, as have estimates of activity.
The region is probably already in a recession that's likely to worsen in the second quarter. Italy is in a particularly difficult situation given it's strained public finances and need to spend billions of euros on emergency healthcare and measures to help workers and companies.