Italian Bonds Stumble as Cracks Start Showing in Political Calm
(Bloomberg) -- Bond buyers just got a reminder that owning Italian debt isn't quite the breeze it felt like in recent months.
A sell-off Monday drove 10-year yields above 1% for the first time since mid-September, after a regional election victory for euroskeptic politician Matteo Salvini's League party pointed to renewed political risks from the far right. Market disappointment over a lack of improvement in Italy's credit profile also weighed, after S&P Global Ratings maintained a negative outlook on the nation Friday in spite of a slide in borrowing costs since May.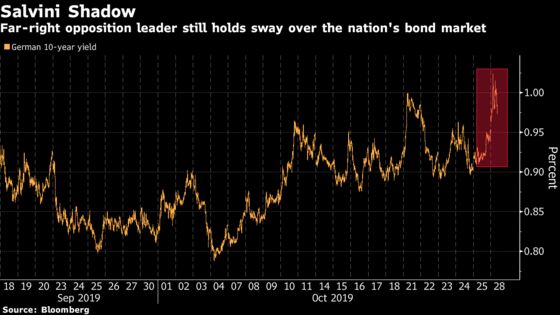 The declines threaten to spoil a more upbeat mood Italian bond markets have enjoyed since last month's formation of a new governing coalition -- seen as more market-friendly -- between the Five Star Movement and the Democratic Party. Still, concerns linger that the partnership between the unlikely allies is a shaky one, while League's victory in the region of Umbria shows that support for the far-right opposition party remains strong.
"The S&P decision to keep Italy in 'negative' outlook and the League's victory in the regional elections are clearly not helping," said Jorge Garayo, a strategist at Societe Generale SA, which still recommends investors position for further gains in Italian debt. "It is inevitable that we get days like today."
Italian 10-year yields climbed as much as seven basis points to 1.02%, the highest level since Sept. 12, before retreating to 0.99%. The spread over German equivalents widened to as much as 137 basis points, the most since Oct. 15. Societe Generale is targeting a decline in the premium to 120 basis points, a level not seen since early last year.