Italy Bonds End Winning Run After Specter of Junk Rating Returns
(Bloomberg) -- Just when investors thought they were safe holding Italian bonds, Fitch Ratings took the country to the precipice of losing its investment grade rating.
In a surprise move, Fitch downgraded the euro area's third-largest economy by a notch to BBB-, just one level above junk, putting the nation's bonds on course to ending their longest winning run in a month. It's ratcheting up the pressure on Italy's political leaders to make sure fiscal deficits don't get too far out of hand, and on the European Union to provide greater support.
"It underlines that Europe needs to get on with a proper fiscal support program," said Charles Diebel, a money manager at Mediolanum SpA. "With what's going on with debt levels it's hardly surprising Fitch downgraded Italy."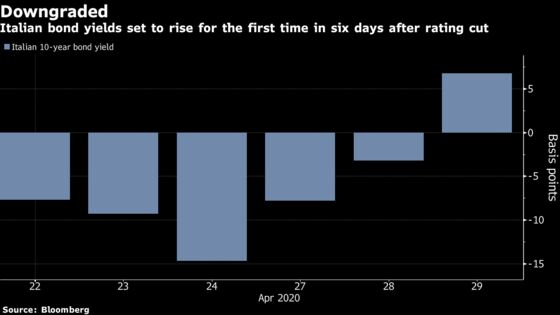 Italy's bond market is currently on life support from the European Central Bank, which is providing the nation with a guaranteed buyer of its debt under the pandemic bond-buying program. But even with that, Italy's yield premium over Germany -- known domestically as "lo spread" -- has widened this month. The ECB is set for its next decision Thursday.
It could've been worse for Italy. In its decision statement, Fitch hinted that it was close to a bigger downgrade, or at least a lowering of the country's outlook, before Italy provided additional information to assuage the agency's concerns.
"That resulted in a rating action that is different than the original rating committee outcome," it said. A spokesman for the Italian Treasury declined to comment on the issue.
The timing of the move caught many investors off guard given that Fitch was scheduled hold its next review on July 10. The company noted that developments in the country -- which include the significant impact of the global Covid-19 pandemic on Italy's economy and the sovereign's fiscal position -- necessitated action outside the set date.
To avoid more downgrades, Fitch will need to see a credible economic plan to ensure debt-to-GDP trends lower.
Yields on 10-year bonds jumped as much as 10 basis points to 1.83%. That unwound much of the yields' drop this week after S&P Global Ratings left the nation's status unchanged on Friday. The yield spread over Germany widened as much as 11 basis points to 231 basis points.
Moody's Investors Service is next to go, with a review scheduled for May 8. The agency has Italy just one notch above junk, though signaled last week it may hold off downgrading the nation.
"Italian bond resilience will be put to test following Italy's surprise downgrade," wrote Commerzbank AG strategists Cem Keltek and Michael Leister. "The bar for further action is low and the pressure on the 2021 draft budget high."
Prime Minister Giuseppe Conte, who is already under fire from coalition allies, regional and business leaders for his caution in gradually easing a two-month lockdown from May 4, now has to contend with the prospect of a mass investor exodus. The biggest bond-tracking indices require at least one investment-grade ranking.
Finance Minister Roberto Gualtieri said in a statement that Italy will initiate an agenda of reforms and investments to raise the nation's growth potential and lower debt. The government forecasts that GDP will shrink 8% this year, while Bloomberg Economics sees the economy plunging 13%.
In an early test of investor appetite, Italy successfully sold 6 billion euros ($6.5 billion) of bonds at auction. It received record orders for a syndicated bond offering last week.
For its part, the ECB may have to do more to help support the euro-area economy this year. Its 750 billion euro emergency bond-buying program, announced last month, is expected to run out in the autumn if it continues at the current pace. Barclays Plc has said that it may need to double in size to protect the region from deficits of up to 10%.
The ECB said last week that it would accept junk debt as collateral for loans, while sub-investment grade Greek bonds are eligible for the pandemic bond-buying program.
Read More:
Italy Public Finance Fundamentals Are Solid: Finance Minister
A cabinet meeting expected late Wednesday could approve delaying tax payments, and the cabinet may meet again Thursday to approve a new spending package, newswire Ansa reported. Conte has pledged new stimulus worth at least 50 billion euros, with more liquidity measures for businesses, after his government agreed on an initial 25-billion euro package last month.
"If Europe wasn't taking action, with the ECB on our government securities, today we would be hit and sunk, there would be an Argentina-style drift," ex-premier Enrico Letta, dean of the Paris School of International Affairs at Sciences Po University in Paris, told Radio24. "It's not happening because Europe is writing cheques for our country, the ECB is intervening."