Italian Bonds Fall as Budget Concerns Continue to Hit Investors
(Bloomberg) -- Italian bonds fell as the country's Deputy Prime Minister reportedly said the government may breach the European Union's deficit limit.
The nation's benchmark 10-year bonds fell for a fifth day after Luigi Di Maio said in an interview with a local newspaper that the government may break the bloc's 3 percent deficit pledge if that's what's needed to increase investment spending and boost the economy.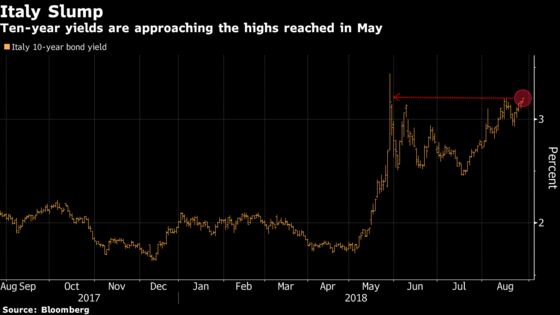 With Italy preparing to unveil its budget next month, tensions between the EU and the nation's populist administration have unnerved investors who fear the country is on a collision course over its fiscal plans.
Tuesday's decline in Italian bonds pushed the yield on the 10-year notes up by four basis points to 3.21 percent, edging toward the 3.44 percent high seen in May as the euroskeptic administration's ascent to power in Rome led to a meltdown in the country's bond market. Continuing tensions since then have caused Italy to become the epicenter of euro-area financial volatility.
"We just have the ongoing concerns and comments as Italy prepares the budget," said Richard Kelly, head of global strategy at Toronto-Dominion Bank. "We are testing the recent highs again in 10-year yields so the biggest near-term risk is we trade through there and potentially push the range back up toward 3.50 percent."
In the run-up to the budget, banks including Societe Generale SA have recommended cutting exposure to the nation's assets. Italy's coalition government is set to come up with public-finance and economic-growth targets by Sept. 27, with a draft budgetary plan to be submitted to the European Commission by Oct. 15.