Italian Bonds Face Up to Risk of Ratings Downgrade by Fitch
(Bloomberg) -- Italian bond investors are bracing for the risk of the second sovereign-rating downgrade in as many quarters as a recession threatens the government's plan to rein in the budget deficit.
Societe Generale SA estimates the market is pricing in a 30 percent probability that Fitch Ratings will lower Italy's ranking Friday by one step to BBB-, which would leave it one notch above investment grade. While the country will remain eligible for the main bond indexes even after such a cut, investor sentiment will likely worsen given the economic weakness, according to Commerzbank AG, which recommends positioning for a flattening of the nation's yield curve.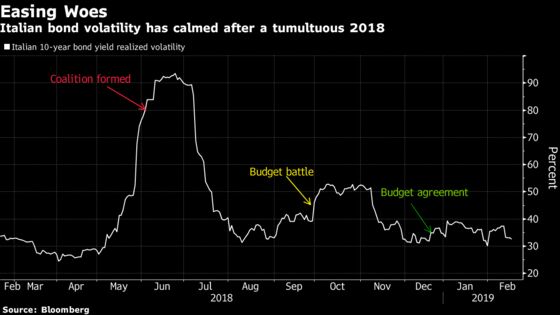 "Weaker economic growth has the potential to undermine all assumptions about the fiscal and political path in Italy, putting the investment grade ratings at risk," Commerzbank strategists Christoph Rieger and Michael Leister wrote in a note to clients. "Italian macro data is becoming the number one market mover for euro bond markets."
Fitch's decision comes after markets close Friday, while Moody's Investors Service is due to review Italy on March 15 and S&P Global Ratings on April 26. Moody's already has the nation just one notch above junk, following a cut in October.
While Italian bonds have recovered a sense of stability after enduring a couple of meltdowns last year, the outlook is still hazy. The economy contracted in the second half of 2018, casting serious doubt on the populist government's plan to keep its deficit below the European Union's 3 percent limit.
The League-Five Star Movement coalition's spending plans make Italy "a factor of contagion risk for the entire euro area," newspaper La Repubblica cited a draft of the European Commission's annual report as saying.
Italian 10-year yields rose three basis points Friday to 2.86 percent as of 10 a.m. in London, widening the premium over German bunds by four basis points to 275. The spread touched a five-year high of 340 basis points in October.