Italian Bonds Drop After EU Projects Breach of Debt Limit
(Bloomberg) -- Italy's bonds slipped after the European Union said the country's deficit assumptions would likely breach its limit by 2020.
Yields on the securities extended an increase this week after the EU said Rome's growth estimates were too optimistic and that the deficit would widen to 2.9 percent next year, above the government's 2.4 percent target. The shortfall was then seen rising above the bloc's 3 percent limit in 2020.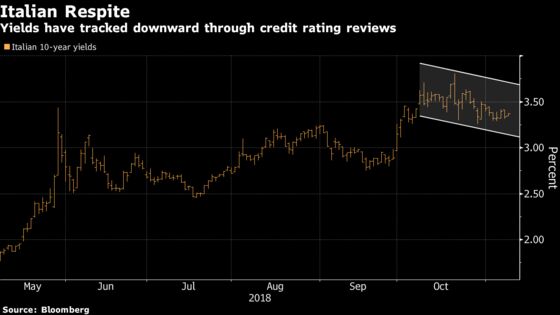 Friction with the EU risks derailing a recovery seen in Italian debt after Moody's Investors Service and S&P Global Ratings avoided downgrading it to junk last month. The nation's leaders have until Nov. 13 to submit revised spending plans after the Commission rejected their initial proposals.
"The sentiment is obviously negative for Italian bonds," said Arne Lohmann Rasmussen, head of fixed-income research at Danske Bank A/S. "Things are of course heating up ahead of the deadline on Tuesday."
Ten-year yields rose six basis points to 3.40 percent, with the spread over those on their German peers climbing five basis points to 294 basis points.
The Commission projects that economic growth will be 1.2 percent in 2019, compared to the 1.5 percent target outlined by the coalition government. The EU's Economic and Monetary Commissioner Pierre Moscovici said they saw spending coming in higher on interest payments on sovereign debt. Further dialog was needed, he said.
"We need to get closer together, but we need to respect the rules," Moscovici told reporters in Brussels. "We would like Italy to remain what it is -- a major country within the euro zone. There's no future for Italy outside the euro zone."
Further disagreement with Italy is already "widely expected" by the market and there is still scope for improvement in sentiment toward the nation's bonds, according to Mizuho International Plc.
"We're not expecting much of a sell-off in BTPs beyond a short term 'knee-jerk' reaction," wrote strategists Peter Chatwell and Antoine Bouvet in a note to clients. They recommended buying five-year bonds versus their two- and eight-year peers.