Italy Bonds Slide as Economy Slows, Debt Auction Underwhelms
(Bloomberg) -- Italian bonds dropped as disappointing economic growth and a tepid debt sale damped investor enthusiasm.
The securities snapped a three-day rally after the nation's growth stagnated in the third quarter and sale prices for 10-year debt at the Treasury auction were below market levels. The weaker average sale price reflected fragile investor sentiment after rating agencies cut their view on the sovereign's outlook.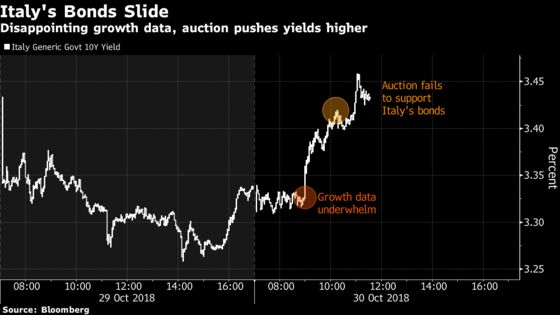 Italian bonds have been buffeted by volatility on concerns surrounding the coalition's budget deficit for next year. S&P Global Ratings last week lowered its sovereign outlook to negative following a downgrade by Moody's Investors Service to one notch above junk. The latest set of economic data is unlikely to allay investor anxiety about the nation's debt-to-GDP ratio, the second-highest in the euro area.
"BTPs were under pressure this morning following the weak GDP," said Antoine Bouvet, an interest-rates strategist at Mizuho International Plc. "The follow-through from the auction is quite soft."
The yield on the nation's two-year bonds rose 15 basis points to 1.11 percent, while that on 10-year notes climbed 11 basis points to 3.45 percent. The move wipes out this week's relief rally that came after S&P held its rating unchanged, following some investor expectations of another downgrade.
The Treasury sold 2 billion euros of five-year bonds and 2.5 billion euros of 10-year notes at Tuesday's sale as expected, with demand for both tenors exceeding the amount on offer by more than 1.4 times. However, market attention focused on the 10-year average sale price falling below secondary-market levels at the bidding deadline.
The debt led a decline across euro-area government bonds, as the region's economy unexpectedly grew at its weakest in more than four years and a measure of confidence suggested a more protracted slowdown. Italy's economy stalled on a quarterly basis and annual growth slowed to 0.8 percent in the three months ended September, from 1.2 percent in the prior period.
That may be a setback for Italy's populist government, locked in a battle with the European Union over a wider deficit in its planned budget. Still, the event risks surrounding Italian bonds may wane for now, according to Mizuho.
"The phase of potentially outlook-changing events is coming to an end -- rating reviews are done, the European Commission has given its assessment of the Italian budget and the government is unlikely to make material changes," said Bouvet. "There should be less headlines going forward, which is positive for BTP direction."