Italian Bond Revival Begins as S&P Holds Fire on Rating Cut
(Bloomberg) -- Italy's populists and debt market have made it through a brace of credit rating reviews that threatened to further blow out the nation's borrowing costs just as they saddle up for the next stage of a budget standoff with the European Union.
The country's bonds and stocks jumped Monday after S&P Global Ratings lowered its outlook on Italy to negative Friday and kept the sovereign rating unchanged at two notches above junk. That followed short-lived gains a week ago after Moody's Investors Service cut the rating but kept it at investment grade.
"We are still seeing a relief rally because the odds of Italy being junked in the near term are now very slim, which should help drawing indexed investors back," said Antoine Bouvet, an interest-rate strategist at Mizuho International Plc. "There should be less headlines that can change the outlook from now on."
The decisions by the rating companies to keep Italian debt above the junk threshold may strengthen the hand of the nation's coalition government as it seeks to push through proposals that are in breach of the EU's fiscal rules. An investment-grade ranking assures the presence of its bonds in global benchmarks and the European Central Bank's asset-buying program, providing a guaranteed level of support.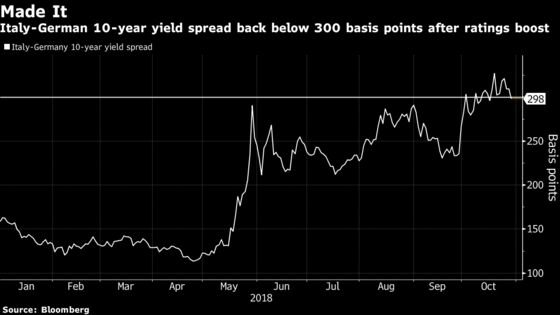 The Five Star Movement-League coalition has come under pressure from markets in recent months as the yield spread on its bonds versus those of Germany reached the highest level since the euro-area debt crisis. ING Groep NV estimated the spread could narrow to 250 basis points with a lack of a downgrade from S&P, especially if a budget compromise is reached with the EU.
"The bargaining process needs to be handled pretty carefully because whether the ECB steps in to help the Italians or not is the key question," Aninda Mitra, senior sovereign analyst at BNY Mellon Investment Management, which oversees $1.8 trillion in assets globally, said in Singapore. "I don't think either side wants to take it to the extent where they make a horrible example out of Italy and get the market to force an adjustment."
Italy's 10-year yields fell 13 basis points to 3.32 percent by 10:30 a.m. in London, narrowing the spread over German bonds to 292 basis points. The FTSE MIB Index rallied 2.6 percent, led by banks Intesa Sanpaolo SpA and UniCredit SpA. The cost of protecting against defaults fell, with the two lenders leading tightening of the iTraxx senior and subordinated financials indexes.
Italy has three weeks to resubmit its budget to the EU, while its own parliament has to approve the budget law by year-end. S&P assumed a 2019 deficit above the government's target of 2.4 percent, which means the hurdle for a ratings downgrade is relatively high, while there are some signs Italy may keep a cap on spending, said Arne Lohmann Rasmussen, head of fixed-income research at Danske Bank A/S.
While the euroskeptic firebrands in Prime Minister Giuseppe Conte's administration have embraced a war of words with the European establishment, some officials in Rome have flagged concern about how the escalating bond yields could affect the country's banking system.
Conte asked government entities to prepare options to help lenders if the decline in the value of their holdings of government debt requires them to recapitalize, the Corriere della Sera newspaper reported on Monday.
Cabinet Undersecretary Giancarlo Giorgetti said last week that bank bailouts may come into play again if the 10-year spread crosses 400 basis points. The country's banks are still sitting on 260 billion euros ($300 billion) of non-performing loans from the last financial crisis.
"It's a long fuse, and Italy's a big deal -- this is not Greece," said BNY Mellon's Mitra. "I suspect we're still at the early-to-middle stages of the bargaining process that's playing out."