Italian Bonds Plunge, Euro Slides as EU Takes Aim at Budget Plan
(Bloomberg) -- Italy's bonds plunged Thursday just hours after the Treasury successfully conducted a bond-exchange operation as the European Union's executive body dispatched a letter to the nation's government and investors sharpened their focus on budget concerns. The euro also fell.
The yield on Italy's 10-year surged as much as 15 basis points to around 3.70 percent on an intraday basis, widening the spread over equivalent German debt to levels unseen since 2013, while Europe's common currency slid as much as 0.4 percent to $1.1455. Italy's Draft Budgetary Plan for 2019 constitutes "an obvious significant deviation" from European Union rules, Commissioners Valdis Dombrovskis and Pierre Moscovici wrote in a letter to the country's finance minister that was released publicly after the local bond market closed.
The missive from the EU marks the start of a process, which could culminate in a decision by the European Commission to issue a negative opinion next week -- essentially rejecting Italy's budget -- and asking the Italian government to send it back with revisions. That has never happened before.
"The Italian government is going to get further into this standoff with the EU," said Ben Emons, chief economist at Intellectus Partners LLC. "The market is continuing to realize that there is not going to be an easy resolve and there will be a lot of brinkmanship as we are seeing."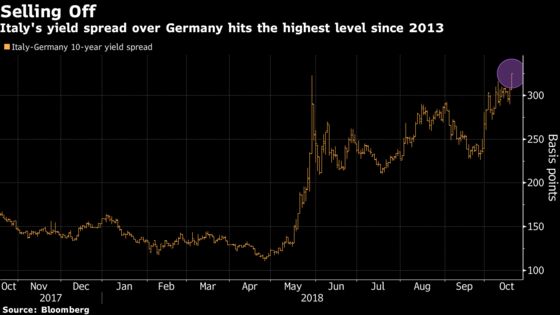 Italian Finance Minister Giovanni Tria said the EU and Italy have different views about the country's policies and he hoped "with dialogue" these views would "come closer together." Moscovici said the letter is not final and there is still time which should be "used productively" to continue to exchange views.
European Central Bank president Mario Draghi for his part told EU leaders at a summit in Brussels Thursday that questioning the bloc's rules can worsen financial conditions and damage growth, according to an official familiar with his remarks, which are likely aimed at Italy's budget dispute with the Commission.
The country also faces credit-rating decisions from S&P Global Ratings and Moody's Investors Service before the end of the month, with both companies ranking Italy just two notches above junk.
The market moves came in the wake of an bond exchange operation by the Italian Treasury, which saw the government switch 3.8 billion euros ($4.38 billion) of inflation-linked securities, known as BTP Italia, for five nominal bonds with maturities ranging from 2025 to 2046. That was more than the 3 billion-euro outlined by the Treasury beforehand, but bond investors soon took umbrage, pushing the yield spread over Germany to the highest level in more than five years.
"The Treasury released much more duration in the market, which is going to weigh on BTPs as whole," said Antoine Bouvet, a strategist at Mizuho International Plc. "This confirms the despondent mood in BTP markets."
Italy's bonds have been roiled in recent months by the prospect that its new government's spending plans would fall foul of EU rules and add to its already hefty stock of debt -- around 130 percent of gross domestic product. The Treasury likely wanted to take advantage of a slim window of opportunity before headlines continue to bruise Italy's ailing debt market, according to Societe Generale SA.
"They need to raise cash so finding a quiet time to do that is important," said Ciaran O'Hagan, head of European rates strategy. The Italian Treasury "needs to refinance maturing debt by issuing new bonds and that process is almost continuous given that Italy is Europe's largest issuer."
Italy bought back the BTP Italia maturing in April 2020 and sold bonds maturing in 2025, 2028, 2029 and 2046 through a syndication of banks. Italy's 10-year yields climbed 11 basis points to 3.66 percent, with the spread over Germany hitting 326 basis points, the highest level since April 2013. The bonds of Spain and Portugal also dropped, with the former having to digest its own wave of supply, while yield on U.S. Treasuries fell amid a bid for safer assets.